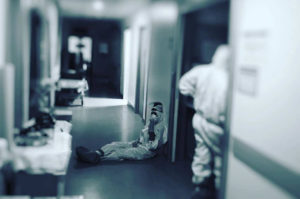 North Carolina has just reported its first official case of the new highly contagious mutated strain of coronavirus.
According to a press release from NC Department of Health and Human Services, the B.1.1.7 Covid-19 variant was identified in a Mecklenburg County adult.
"While expected, identification of this COVID-19 variant in North Carolina is concerning, especially at the same time as we are already seeing very high numbers of cases," said NCDHHS Secretary Mandy Cohen, MD. "It is more important than ever to practice the 3Ws."
NCDHHS is reporting the first identification in an NC resident of the COVID-19 variant called B.1.1.7, which was first detected in the UK in December. The B.1.1.7 variant was identified in a sample from an adult in Mecklenburg County processed by Mako Medical Laboratories. pic.twitter.com/phiFCbIj1w

— NCDHHS (@ncdhhs) January 23, 2021
The new B.1.1.7 strain was first discovered in the U.K. in early December. It's thought to be up to 50% more contagious than the original strain of Covid-19, but there has yet to be any indication that the new virus is more or less harmful than the original strain (on an individual level). There have now been 200 cases identified in 21 states across the US.
Covid vaccines are now available for North Carolina health care workers, long-term care residents and staff, and adults over 65. You can find out more information or schedule a time to receive a vaccine here – yourspotyourshot.nc.gov.
Comments
comments