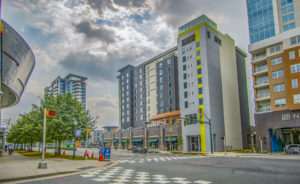 Nationwide rents increased another 0.5% in April, but even as the busy season picks up, rent growth is coming in slower than in previous years. When prices skyrocketed during the pandemic, April rent growth clocked in at 1.1% in 2022 and 1.7% in 2021. And even before the pandemic, April rent growth was higher than it is today. Of course, regional variation exists, but the national numbers speak to a continued, broad cooldown of the rental market.
For the latest data, see Apartment List's May Rent Report for Charlotte.
Some highlights include:
Rents in Charlotte increased 0.4% in April, compared to a 0.5% increase nationwide.

Year-over-year rent growth in Charlotte now stands at +2.9%, down from +18.1% one year ago. Since the start of the COVID-19 pandemic in March 2020, citywide rents have risen a total of 24.3%.

Today the median rent in Charlotte is $1,320 for a one-bedroom unit and $1,447 for a two-bedroom unit. And the citywide apartment vacancy rate stands at 8.1%, up 2.3 percentage points from this time last year.
Month-over-Month Rent Growth Among 100 Largest Cities In the US
Comments
comments