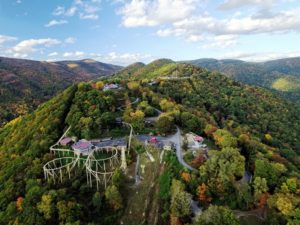 North Carolina's legendary Ghost Town in the Sky theme park just went up for sale for $5,950,000 (a fraction of the $49+ million in renovations spent on the park in 2006 and 2009).
Once one of North Carolina's most popular tourist destinations, the 60-year-old amusement park was set to re-open this past Spring, but rampant vandalism put a halt on plans, according to the current owners.
Over the past 20 years, the park experienced so many ride break downs, lawsuits, bankruptcies, thefts, looters, and mudslides that many now believe Ghost Town in The Sky is officially cursed (one of the park's cowboy actors was even recently shot by a real bullet in a "fake shootout").
Have you ever had a chance to visit the park?
What do you think should be done with one of our state's most storied attractions? 
Comments
comments