As residents and local officials continue to wage war against the I-77 toll lanes, the NCDOT is working diligently to launch several other toll projects.
In total, there are now 5 toll lane projects that are either under construction or in the planning stages around the Charlotte area, including;
#1 I-77 Toll Lanes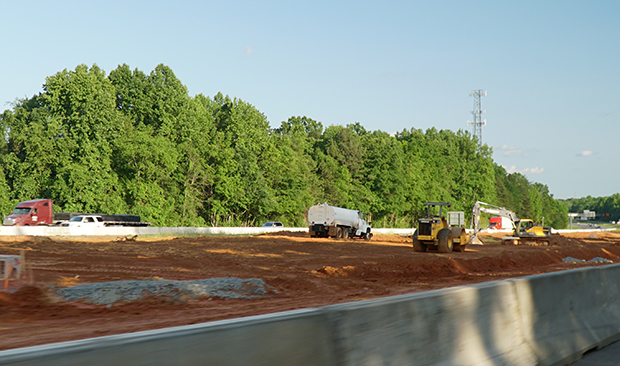 The NCDOT and The I-77 Mobility Partners are currently working on two express (toll) lanes in each direction between uptown Charlotte and Exit 28 in Cornelius. Between Cornelius and Exit 36 in Mooresville, they are building one express lane in each direction.
The current high-occupancy vehicle (HOV) lanes (one in each direction), aka carpool lanes, between Charlotte and Exit 28 are being converted to pay-per-ride express lanes.
The existing lanes will remain free of charge and will be resurfaced.
#2 Monroe Expressway
The NCDOT is building a roughly 20 mile expressway from U.S. 74 near I-485 in Mecklenburg County to U.S. 74 between the towns of Wingate and Marshville in Union County.
Once complete, the Monroe Expressway will be operated by the North Carolina Turnpike Authority.
#3 Independence Boulevard Express Lanes 
The state is now in the final planning stages of a new $405 million project that would add 6.3 miles of toll lanes between Conference Drive and I-485.
The median along Independence would be used for the majority of the new lanes, with the additional property being purchased by eminent domain.
The plan calls for property acquisition to begin in 2022.
#4 Independence Boulevard Express Lanes at 277
Independence also has another toll lane project being planned closer to the city, and this one is already under construction.
The city is currently converting the bus lanes in the median of Independence Boulevard into toll lanes.
The $13.7 million project extends 5.8 miles down Independence blvd., ending at Wallace Lane.
#5 I-485 Express Lanes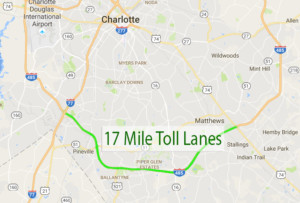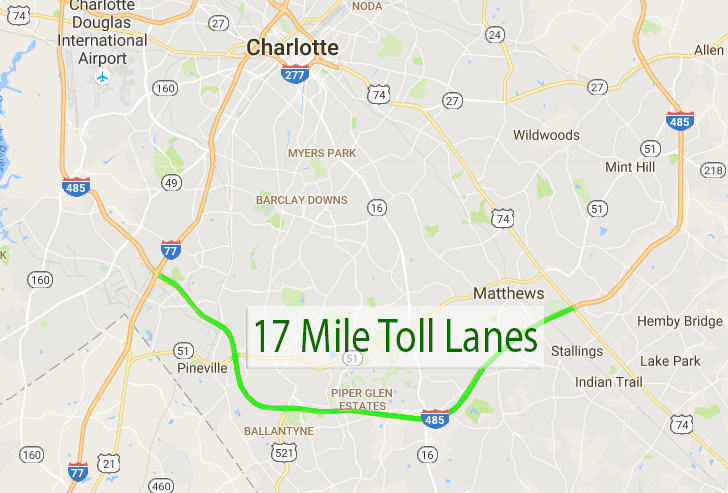 The state is currently finalizing plans for new toll lanes on 485.
The plan would differ from the toll lanes now being built on I-77 in that they would be built by the state, instead of by a private company (Cintra), so they would not need to make a profit – theoretically, this should make the toll lanes less expensive to travel on.
According to the NCDOT, "The proposed project will add one express lane in each direction on I-485 between I-77 and U.S. 74 (Independence Boulevard). The proposed improvements will provide travel time reliability and improve traffic flows on this critical transportation corridor."
The estimated cost for the project is $203 million.
What are your thoughts on toll lanes around Charlotte? 
Do you think these projects will improve traffic in our city?
Comments
comments