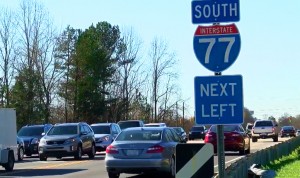 Independent research firm Mercer Advisors LLC just released their final report about the possibility of finishing the new lanes on I-77, but removing the tolls and converting them to general purpose lanes.
The new option is being called "complete and delete" – it would essentially allow all drivers to use new lanes for free, with the esception of large trucks.
According to the report, "NCDOT would have I-77 Mobility Partners complete the construction of additional lanes in the I-77 corridor but it would modify the contract to "delete" the electronic toll collection system (effectively converting the express lanes to general purpose lanes). Under that scenario, the Comprehensive Agreement would be terminated after construction is complete and NCDOT would operate and maintain the new lanes which would be open to all traffic except heavy trucks."
The report dives into the detailed financial implications of the new scenario, and what it would mean for the public, for the NCDOT, and for Cintra – and what costs each group might incur.
The North Carolina Department of Transportation (NCDOT) paid Mercator Advisors $100,000 back in April to review the $655 million toll-lane contract and explore all possibilities of escape after facing 2 years of overwhelming public opposition.
If the NCDOT does decide to move forward with this new "complete and delete" plan, it would lose all private funding for the new lanes and would be forced to pay a considerable amount of fees to Cintra.
Officials plan to hold open houses to hear from the public in the coming weeks.
You can find out more about the toll lanes and alternative plans on NCDOT's website here and read the entire Mercator report here.
Comments
comments