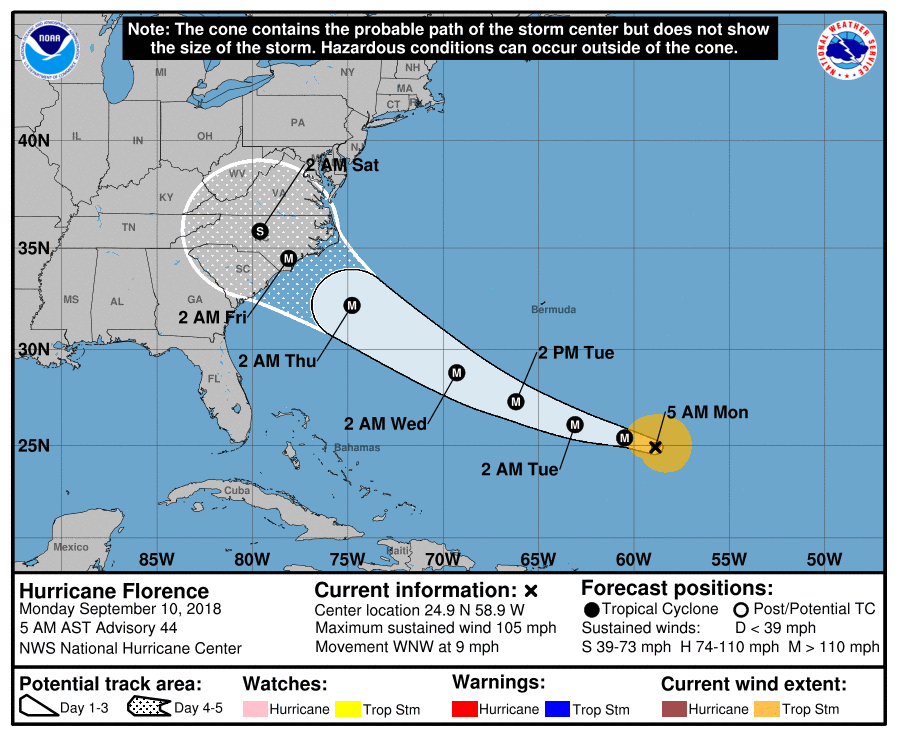 As Hurricane Florence continues to move closer to the Carolina coast, officials are now warning residents to prepare for the worst.
NC Governor Roy Cooper first issued a State of Emergency this past Friday, and again echoed his call for residents to prepare in yesterday's NCDOT press release.
"Everyone in North Carolina needs to keep a close eye on Florence and take steps now to get ready for impacts later this week," Gov. Cooper said. "State emergency management, transportation, health experts and others are making sure North Carolina is prepared for the storm, and I urge the public to review your emergency plans and gather your supplies now."
The National Hurricane Center sent out the following alert this morning;
There is an increasing risk of life-threatening impacts from Florence: storm surge at the coast, freshwater flooding from a prolonged and exceptionally heavy rainfall event inland, and damaging hurricane-force winds. While it is too soon to determine the exact timing, location, and magnitude of these impacts, interests at the coast and inland from South Carolina into the mid-Atlantic region should closely monitor the progress of Florence, ensure they have their hurricane plan in place, and follow any advice given by local officials.
Large swells affecting Bermuda and portions of the U.S. East Coast will continue this week. These swells will result in life-threatening surf and rip currents.
Charlotte's meteorologist Tara Lane noted that the storm could approach the North Carolina coast as a Cat 4 storm Wednesday night into Thursday morning;
According to the National Hurricane Center, storm-force winds from Hurricane Florence could hit Charlotte as soon as early Thursday morning;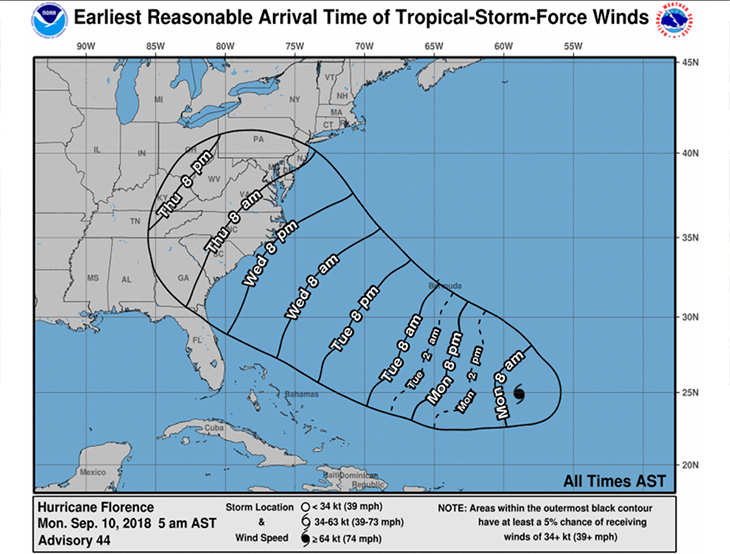 There still is a chance that the storm will swing to the north and avoid direct contact with North Carolina, or even possibly swing back out to sea, according to the latest GFS Ensemble Tracks;
Please take some time to review your safety plans, become familiar with local evacuation routes, and continue to monitor Hurrican Florence's path on NHC.NOAA.Gov.
Everyone living near the coast sure also ensure their hurricane supply kit is stocked and ready to use in case of power loss or flash flooding.
Duke Energy recommends the following items (available via Amazon's same-day Prime Now service if your local store has already been cleaned out);
Cash (ATMs may not work)
Car charger for cell phones and other devices
Clean drinking water (recommended 1 gallon per person per day, minimum three days)
Batteries: Extra batteries for all of your devices
UPDATE 9/13/2018 8:00am:
Hurricane Florence has just been downgraded to a Category 2 storm, but has also grown in overall size, increasing the reach of its damaging winds. It could still marginally strengthen before making landfall, but it will likely remain a Category 2 or weak Category 3.
Please help spread the word! 
Comments
comments