UPDATE 9/13/2018 8:00am:
Hurricane Florence has just been downgraded to a Category 2 storm, but has also grown in overall size, increasing the reach of its damaging winds. It could still marginally strengthen before making landfall, but it will likely remain a Category 2 or weak Category 3.
UPDATE 9/11/2018 9:00am:
Hurricane Florence is continuing to move closer to the eastern seaboard on a relatively straight path as a powerful category 4 storm.
The storm will significantly slow down after hitting land. It's anticipated to take over 48 hours to travel from the North Carolina coast to the Raleigh area.
It will likely decrease from a Category 4 storm over water on Friday to a Tropical Storm before reaching the middle of North Carolina or bottom of Virginia by Sunday.
Charlotte could see wind speeds between 40-60mph between Friday morning and Sunday night;
and up to 2 inches of rain (which will likely cause significant flash flooding around our region);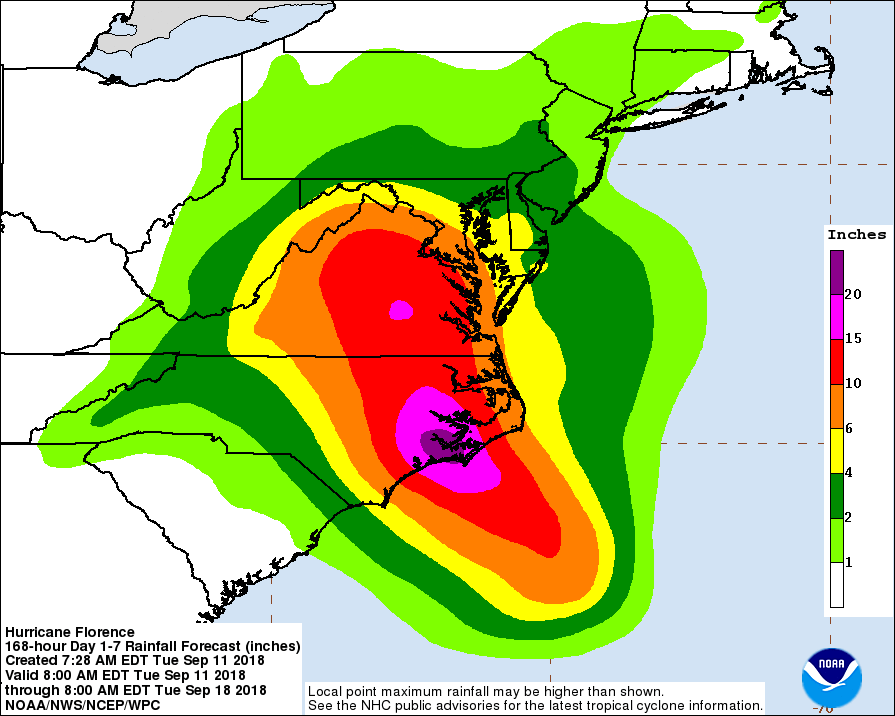 There could be a significantly greater threat to the Charlotte region if Hurricane Florence intensifies to a Category 5 storm, although the chances of that happening are fairly slim based on the current intensity forecasts; 
50 MPH winds and flash flooding around Charlotte will likely knock down trees, cause pockets of power outages, and make some roads impassable.
In case of a power outage, make sure to have the following emergency items stocked in your home;
All the above items are available via 2-day shipping on Amazon if your local store has already been cleaned out.
The City of Charlotte sent us a press release last night about Hurricane Florence with the following information for local residents;
Now is the time before the storm to clear nearby storm drains and small creeks.
Keep curb and gutters free of leaves, litter and branches
Please call 911 for true emergencies. Use 311 to request non-emergency services.
Review your family preparedness plan. Don't forget to include your pets in your planning.
Take inventory of your emergency kit and restock on essentials. 
The city also wants to remind residents that "September is National Preparedness Month, so now is a great time to think about preparedness and safety for all emergency situations."
UPDATE 9/10/2018 9:00am:
As Hurricane Florence continues to move closer to the Carolina coast, officials are now warning residents to prepare for the worst.
NC Governor Roy Cooper first issued a State of Emergency this past Friday, and again echoed his call for residents to prepare in yesterday's NCDOT press release.
"Everyone in North Carolina needs to keep a close eye on Florence and take steps now to get ready for impacts later this week," Gov. Cooper said. "State emergency management, transportation, health experts and others are making sure North Carolina is prepared for the storm, and I urge the public to review your emergency plans and gather your supplies now."
The National Hurricane Center sent out the following alert this morning;
There is an increasing risk of life-threatening impacts from Florence: storm surge at the coast, freshwater flooding from a prolonged and exceptionally heavy rainfall event inland, and damaging hurricane-force winds. While it is too soon to determine the exact timing, location, and magnitude of these impacts, interests at the coast and inland from South Carolina into the mid-Atlantic region should closely monitor the progress of Florence, ensure they have their hurricane plan in place, and follow any advice given by local officials.
Large swells affecting Bermuda and portions of the U.S. East Coast will continue this week. These swells will result in life-threatening surf and rip currents.
Charlotte's meteorologist Tara Lane noted that the storm could approach the North Carolina coast as a Cat 4 storm Wednesday night into Thursday morning;
According to the National Hurricane Center, storm-force winds from Hurricane Florence could hit Charlotte as soon as early Thursday morning;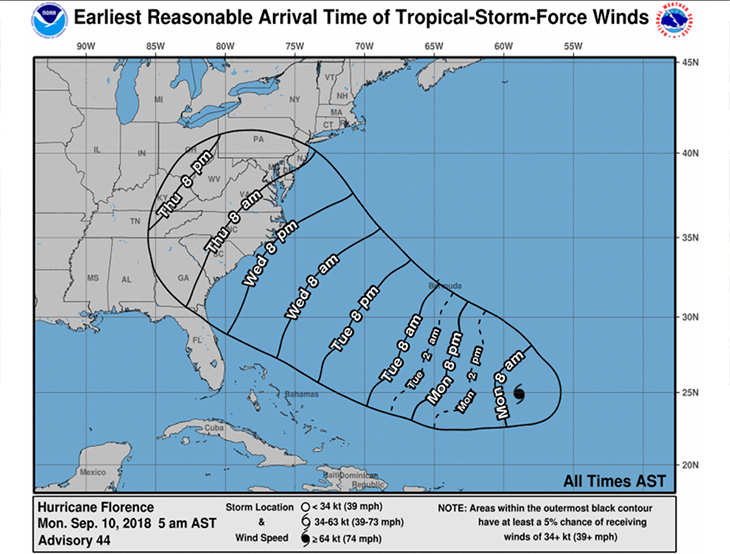 There still is a chance that the storm will swing to the north and avoid direct contact with North Carolina, or even possibly swing back out to sea, according to the latest GFS Ensemble Tracks;
Please take some time to review your safety plans, become familiar with local evacuation routes, and continue to monitor Hurrican Florence's path on NHC.NOAA.Gov
UPDATE 9/7/2018 9:00pm: 
Today Hurricane Florence took a turn toward the south and is now on a direct path toward the Carolina coastline.
About an hour ago, Governor Roy Cooper issued a State of Emergency for North Carolina in anticipation of the storm.
"We are entering the peak of hurricane season and we know well the unpredictability and power of these storms," said Cooper. "It's too early to tell what impacts Florence may have on North Carolina, but it's not too early to prepare for this storm. North Carolina is getting ready, and I urge families and businesses to do the same."
The updated GFS Ensemble Tracks are now showing over half the tracks directly hitting either North or South Carolina;
The National Hurricane center's prediction cone does not yet include impact with the coast, but it does now show a straight path toward the Carolinas;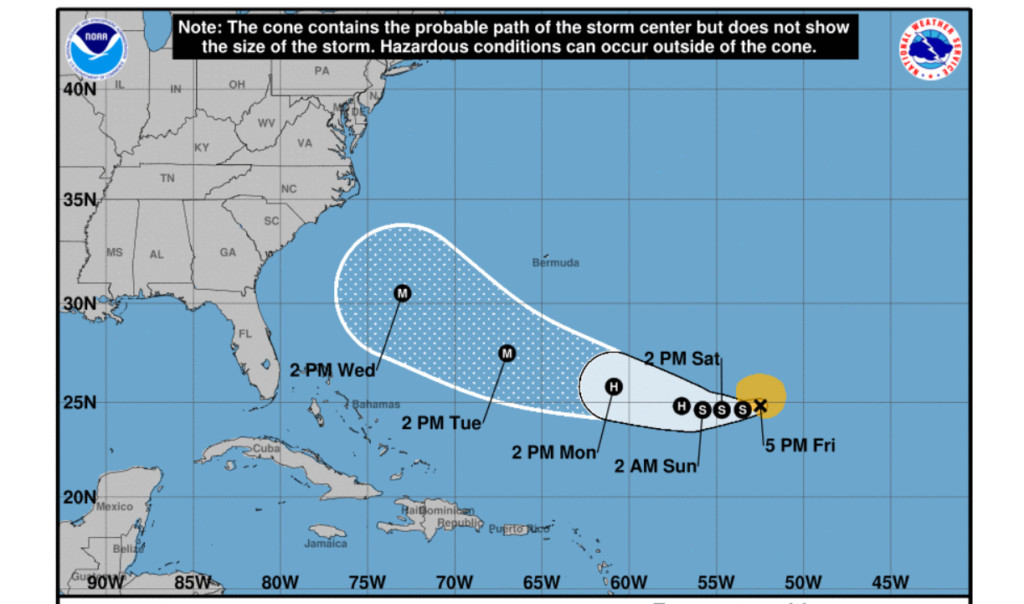 Ventusky is now predicting that Hurricane Florance will directly hit the coast of North Carolina at around 8am next Thursday morning;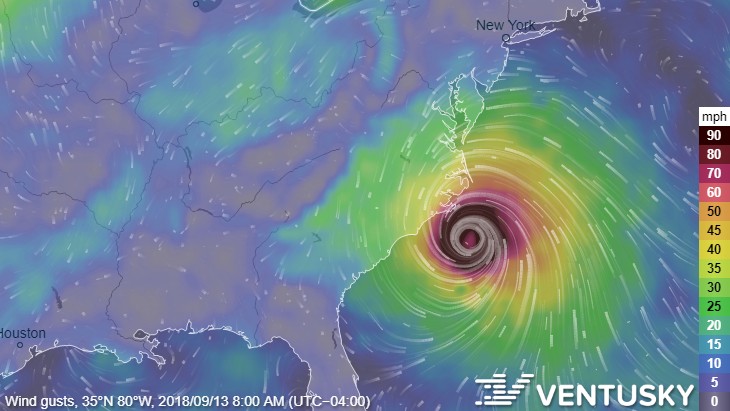 UPDATE 9/5/2018 12:30am: 
Hurricane Florence is continuing on a relatively straight course toward the East Coast.
The updated GFS Ensemble Tracks have changed the direction of AP04 and AP14, but 2 other tracks are now showing the possibility of Florence hitting the Carolinas, AP16 and AP02;
Ventusky is now showing the storm coming in contact with the cost of North Carolina next Wednesday the 12th at about 5pm in the evening;
Original article written Sept. 4th at 11:00 am: 
As the Gulf Coast states prepare for Tropical Storm Gordon, an even bigger storm is gaining strength and heading straight toward the eastern seaboard.
The National Hurricane Center just upgraded Florence from a Tropical Storm to a Hurricane about an hour ago;
Ventusky shows winds from Hurrican Florence starting to affect the East Coast beginning Tuesday, September 11th;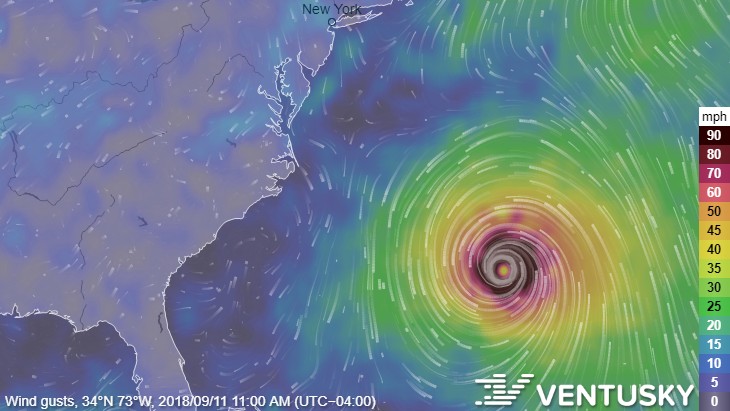 According to the University of Wisconsin's Hurricane Model Center, the majority of predicted paths take the hurricane back out to sea, however, there are two spaghetti line predictions which would result in a devastating direct hit with the Carolinas, one in South Carolina and one in North Carolina.
Either of the 2 scenarios would likely result in Charlotte experiencing hurricane-force winds by the end of next week;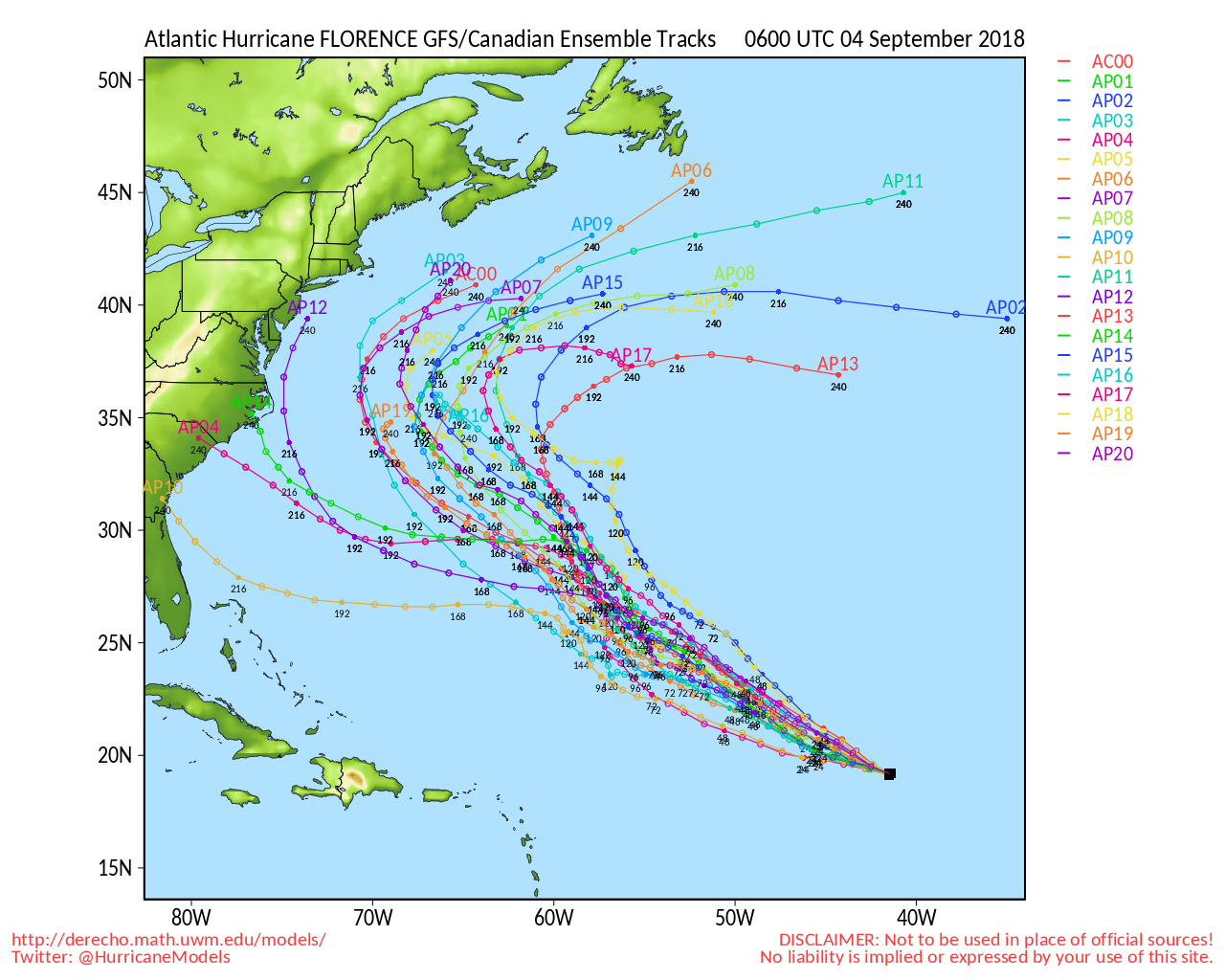 If Hurricane Florence makes landfall as a Cat 3-5, prediction path AP04 could result in Charlotte experiencing a direct hit by a hurricane – something we haven't experienced since Hurricane Hugo devastated our city back in 1989.
We will continue to update this article as Hurricane Florence progresses.
Comments
comments