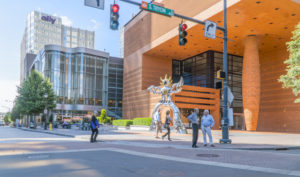 Barely a year ago, COVID-19 plunged our world into chaos. For some, it feels like a decade has passed – just ask any small business owner. In the past 12 months, more than half thought they would lose their company. But thanks to Coronavirus stimulus measures, only about 2% of small businesses nationwide have closed their doors.

However, that doesn't mean these enterprises aren't hurting. As of December 2020, a quarter of businesses had less than 13 days cash-on-hand. To be sure, it's been a rough year.

But things are looking up. With vaccination efforts ramping up, infection rates are starting to dip. So this week, North Carolina Governor Roy Cooper began loosening Coronavirus restrictions statewide.
Some Businesses Can Re-Open at 100% Capacity (with Restrictions)
As of March 23, the Governor signed an executive order relaxing COVID restrictions across the state. Per Executive Order No. 204, museums, personal care businesses (like hair salons), and general retail business can re-open at 100% capacity. Additionally, outdoor pools, fitness centers, and restaurant patios can resume full operations.

However, the pandemic isn't entirely over for these enterprises. Measures mandating physical distancing and mask-wearing in indoor & outdoor public spaces remain in effect. So, they'll still have to contend with the headache of dealing with anti-maskers.

Not every business will take advantage of relaxed restrictions, though. Like Elite Hair and Spa in Lumberton, other businesses are waiting until COVID numbers improve further before allowing 100% capacity. Shalina Texidor, an employee at Elite Hair and Spa, stated it was more important to ensure staff safety.

But despite the mixed reaction to the executive order, it's a positive sign. State authorities have looked at infection and vaccine metrics, and in doing so, it appears they see the light at the end of the tunnel.     
Certain Operations (Like Restaurants) Still Face Capacity Restrictions
While many operations can now (mostly) resume business-as-usual, others remain burdened by significant capacity restrictions. As of March 23, venues where people gather in close quarters – like movie theaters, bars, and arenas – can open, but only at 50% capacity. Meanwhile, restaurants, gyms, indoor amusement parks, and indoor pools can operate at 75%.

For some, these differences may seem unfair. However, NC health authorities have based their decisions on evidence. Over the past year, contact tracing has revealed that viral spread is incredibly potent in places where physical distancing is impossible. While mask-wearing significantly reduces contagion, they are not foolproof.

Secondly, the updated capacity numbers are higher than they were before the executive order. Before March 23, restaurants could only operate at half capacity. Even worse, bars in North Carolina could only accommodate 30% of fire code. Furthermore, the indoor gathering limit has gone from 25 to 50, and the alcohol curfew has been lifted.

Nonetheless, things remain tough. The virus is still out there, and many North Carolinians have yet to get their vaccination. Because of this, some regulars might not return to their old haunts for months yet.
So, to protect their bottom line, many operators are seeking out private financing. If you plan on doing the same, check out this small business lender list NC.  No matter your situation, you're likely to find a provider that can help you fill in your cash flow gaps.
North Carolina is Vaccinating at a Brisk Pace
If you've seen North Carolina's latest COVID numbers, you might be questioning the wisdom of relaxing restrictions. As of this article's writing, the Tar Heel State was reporting an average of 1,534 cases per day. That's less than a quarter of daily cases during the second wave peak, but it's far from zero cases per day.

However, things are different this time. Vaccines are finding their way into arms fast. As of March 28, more than 2.9 million North Carolinians – or 28.15% of the state – had gotten at least one dose. Add that to those who have recovered from COVID – with every passing day, it will get tougher for the virus to spread.

So, once you take these facts into account, loosening restrictions make sense. If current guidance on the real-world effectiveness of COVID vaccines is any guide, this is an evidence-based decision.
COVID-19 Variants Still Pose a Threat
However, there is a wildcard out there – the variant strains. In recent months, mutated COVID viruses have emerged in the UK, South Africa, and Brazil. These bugs are concerning for several reasons – most importantly, they are far more infectious than the original Coronavirus.

Secondly, they appear to affect younger adults more severely – a concerning turn of events, given their cavalier attitude towards COVID. And finally, it's unclear whether these new mutations respond to the vaccines as readily as the original Coronavirus strains.

The first two features make the variants very concerning. So far, however, it appears the vaccines are suppressing their spread. For convincing evidence, you needn't look further than the United Kingdom.

In January 2021, UK scientists reported the existence of B.1.1.7. This genetic mutation of COVID-19 made it far easier to spread, which explained exploding case numbers in the preceding weeks.

At the same time, the United Kingdom's national vaccination program had just begun. With lockdown measures, new cases have sunk from a high of 60,000 per day in January 2021 to less than 4,000 now. Deaths have plummeted from 600 per day to around 60 per day. Not bad at all.
The Road to "Normal" Will be a Bumpy One
So far, it appears that current vaccines are doing well against COVID-19 and its variants. As vaccination rates increase, new infections and severe outcomes should continue to decline. However, as long as the virus is out there, the chances of a vaccine-beating mutation emerging remains possible.
If you are a business owner in NC, remain on guard. Create a contingency plan against further disruptions, and you'll give yourself the best chance of surviving future COVID outbreaks.
Comments
comments