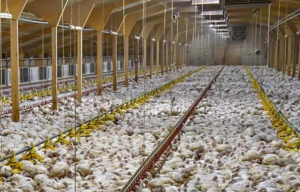 The COVID-19 pandemic is now wreaking havoc on one of the Carolina's most iconic industries – chicken farming.
According to North Carolina Department of Agriculture officials, NC farmers have now being forced to euthanize over 1.5 million chickens.
Joe Reardon, NC's Assistant Agriculture Commissioner reported to The News & Observer that at least 500,000 chickens have already been killed due to local outbreaks of COVID-19 at North Carolina poultry farms.
According to Readon, "Depopulation is the very last thing that any of these farmers would ever want to do, so it would be a last resort, but the continued lack of processing capacity over a long period of time with this 'just in time' process that we have on animal production, puts us in this very untenable situation."
The 'just in time' process he mentioned is a standard practice across the US food chain, whereby farm produce and livestock is delivered on an extremely tight schedule between the farm, factory, packaging plant, distributor, and the retailer.
Over 2,000 workers in 26 processing plants throughout North Carolina have now tested positive for COVID-19. Some plants have now temporarily closed, but none have yet shut down.
Comments
comments