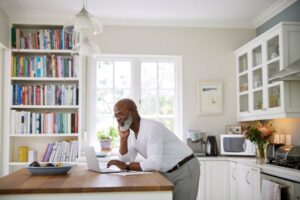 The cost of getting a mortgage has risen dramatically in recent weeks. You may wonder what this signifies for you and your future home purchase. The following information should be considered when making plans to purchase a home to ensure you can make the process smooth and save enough money to work with the best local movers, interior designers and other such parties offering services to make your house a home. 
Rising Mortgage Rates and Their Repercussions
The cost of purchasing a home and the amount you feel comfortable spending go up as mortgage rates rise. Detailed instructions are provided below.
For this example, let us say you are looking to spend $400,000 (the median home price in the U.S. is $389,500, per the National Association of Realtors). Here is how your buying power can shift as mortgage rates rise if you are trying to shop in that price range while keeping your monthly payment to about $2,500-2,600 or below.
You are on track with payments in the green area, while the red denotes too-high payments. The chart shows that if rates keep rising, borrowers will be able to borrow less money, forcing them to look at lower-priced homes. That is why it's smart to consult a property expert if you want to learn how different loan amounts and interest rates affect your monthly mortgage payment.
Do You Think Now Is a Good Time to Buy a House?
Although mortgage rates are a significant factor in the overall cost of purchasing a home, they should not be the primary factor in your decision.
Mortgages are a good option because they are secured loans, making them more affordable than unsecured debt. Instead of just taking the standard deduction, those who itemise their tax returns can deduct the interest they pay. Moreover, since paying off a mortgage loan results in equity and home ownership, as opposed to renting, homeowners tend to have a higher combined wealth than renters do.
It would help if you did not miss the long-term wealth-building benefits of home ownership by waiting for rates to fall. That is especially true because if you get a mortgage at the worst possible time, you can always refinance, but you can't change the past to avoid higher rates. Whether or not you are prepared monetarily should be your primary concern.
It may be worthwhile to proceed with a greater mortgage loan home purchase even if you possess good credit, negligible other debt, a sizable down payment, and emergency savings. Your primary concern is making sure you can afford the monthly mortgage payment both now & in the future.
Once you've moved in, you can start accumulating equity while keeping an eye on mortgage rates to take advantage of a future drop.
The Top Mortgage Bank in the Midwest in 2022
A new record high in mortgage rates has been set, and more increases are anticipated. These days, it's more important than ever to shop around for the best loan conditions you can get by comparing rates from several lenders. Hundreds of dollars may be saved monthly if your interest rate is slightly lowered.
In just as 3 minutes, you can get pre-approved with no hard credit check and lock your rate whenever you like. What is more? The company does not add on origination and lender fees (which can amount to 2% of the loan amount with some banks).
In What Direction Will Home Prices Go?
It's becoming tougher to purchase a house in today's market due to rising costs like mortgage interest rates, inflation, and housing prices. Economists of Fannie Mae anticipate a 16% annual increase in pricing during the next three months.
MBA experts agree that rising property prices are likely here to stay. As a result, they anticipate a 9.8 per cent annual price rise in 2022 compared to 2021 and a 2.8 per cent increase in 2023.
Will There Be A Reduction In Mortgage Rates?
You may be hesitant to make a purchase right now because of rising mortgage rates and the associated decline in buying power.
It may be some time before mortgage rates go down as the Federal Reserve attempts to rein in inflation.
Conclusion
The cost of buying a house is more now than a year ago, but the same is true of renting. Because of this, your costs are certain to rise. Homeownership differs in that, over time, you build equity that may be used to increase your wealth.
Comments
comments