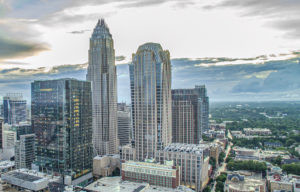 Charlotte is famous for many things. From the Carolina Panthers and Charlotte Hornets, to Carowinds amusement park and the US National Whitewater Center, there are plenty local landmarks that make the city great. Then, of course, you've got some of the best BBQ food in the US and a hospitable atmosphere to boot. In fact, such is the appeal of Charlotte that it was ranked as one of the fastest-growing metro areas in the US between 2004 and 2014. With almost 900,000 new residents pouring in, it became a boom city for millennials in 2015.
Today, Charlotte remains a draw for many and, as well as a thriving population, the real estate market is consistently strong. If that's not enough, how about animals? Did you know that North Carolina has the largest walk-through zoo in the world? Forget Tiger King, North Carolina Zoo is spread across 2,000 acres and is home to more than 1,600 animals from 250 different species. When you add all of these things up, it's easy to see why people are hot on the region.
Charlotte: A US Banking Capital
Of course, you probably already knew about many of the aforementioned attractions. However, something you might not have known about Charlotte is that it is a financial hub. New York rightly commands all the attention when it comes to banking and trading. But, we're here to tell you that Charlotte is also a force to be reckoned with when it comes to money movers and shakers. Bank of America has its headquarters in Charlotte, as does Truist Financial Corporation, which oversees a network of banks and insurance services. The presence of two major names in finance has inspired a culture of money management and money making within the city.
In recent years, this culture has converged with the emerging world of online trading. Although online trading sites have been around for at least a decade, the industry is still new to many. Old images of men in suits shouting at each other across a crowded room still persist. However, thanks to the internet, putting money into stocks, shares, forex, and commodities is easier than it's ever been. In fact, using nothing more than a home computer or a laptop, the average person can not only make investments but access a wealth of additional resources.
To attract new customers, most online trading sites offer forex bonuses. As their name suggests, these offers give you with something extra when certain conditions are met. For example, a new customer could be given a $50 forex bonus when they make an initial deposit of $200. These deals are there to give newbies something extra and, in turn, encourage novices to start investing. From there, you've got tutorials, expert tips and daily wires that push important statistical information to your device. The end result is a platform that allows everyone, from beginner to expert, to start trading.
A Community of Financially-Minded Locals
In tandem with this culture of online trading, Charlotteans have created their own financial communities. Picking up on the city's banking ties, and drawing inspiration from the online trading revolution, local meet-ups provide a way for everyone to share their love of investing. Indeed, if you scroll through the listings on Meetup.com, you'll find a variety of groups with financial interests. From the Charlotte Forex Trading Group to the Wealth Meetup, there are plenty of people willing to discuss all things money in the local area.
Charlotte might not be New York. However, it definitely has one of the biggest financial cultures outside of Wall Street. Yes, it might not be what the masses think of when they picture the city, however, that just proves we're a place with hidden depths. Charlotte has a lot of great things going on, and money management is just one of them. Indeed, if you're someone with financial aspirations, this is one of the best cities in America to be in.
Comments
comments