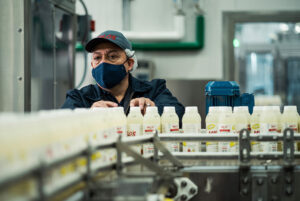 Milo's Tea, originally founded in 1946 by Milo and Bea Carlton in Alabama, has decided to move operations to South Carolina with the announcement of a sprawling new $130 million brewing and bottling facility in Spartanburg County, initially employing at least 103 people.
After searching for a suitable site for a 110,000–square foot facility for several years, the company chose 48 acres at the corner of U.S. highways 290 and 221 in Moore, SC. 
"South Carolina was the optimal location to efficiently serve our customers up and down the East Coast. Like our selection journey for our Oklahoma facility, we immediately felt at home in the Spartanburg area as we received a warm welcome from state and local community partners," said Milo CEO Tricia Wallwork. "South Carolina and Spartanburg County in particular proved to be the right ecosystem to help us advance our people-first culture by offering an excellent standard of living for our associates and robust workforce development resources to drive economic prosperity not only for our people, but also for the region."
In 2022, Milo's Sweet Tea reported that its sales had doubled year over year to $400 million.
According to Southern Living, "Milo's Sweet Tea has garnered a following so committed and so widespread (and maybe so addicted?) that the name has become synonymous with sweet tea itself in some parts."
The new South Carolina facility is expected to open by the end of 2024.
The company has a careers page for applicants here.
Comments
comments