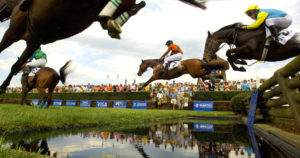 When jockey Lorcan Williams was slapped with an 18-day suspension for breaking the newly implemented rules designed to limit the number of times a rider can strike a thoroughbred whilst using his or her whip – it sent a strong and clear message to those in the world of horse racing that punishments will be handed down if stipulations aren't adhered to.
As part of the rules, jockeys cannot exceed six strikes with the whip in a flat race and seven in a jumps race – all while ensuring they are not using the whip above shoulder height. While the amendments to the rules late last year were widely praised by a number of jockeys, Williams' suspension just weeks out from the Cheltenham Festival has opened up a can of worms.
While there are 20 jockeys in total to have been suspended in accordance with the new guidelines, Williams is most certainly the highest profile jockey to fall victim to them. The decision came after the British Horseracing Authority (BHA) penalised him for overuse of the whip in his Grade 2 Prestige Novices' Hurdle victory at Haydock atop Makin'yourmindup. Williams was found to have struck his horse two more times than the maximum number of seven permitted.
As a result of his suspension, Williams will no longer be eligible to take part in the Cheltenham Festival – a realisation that has hit the 23-year-old rather hard.
"I'm absolutely gutted, but it is what it is and I'll take it on the chin. Hopefully I'll learn from it but it has been a hard transition for us all," he said.
"It's very difficult because it's been a big change and the bedding-in period of the new rules wasn't a success by any means."
It's a huge blow for Williams, who was expected to be atop Brown Advisory Novices' Chase 10/1 horse racing betting shot Stage Star on day two of the Festival. And he would have been a real shot to upset the applecart, with Williams arguably experiencing the best form of his career. At the time of writing, the Amroth native has ridden 19 winners from 119 starts this season. 
That begs the question, how will Williams' suspension impact other jockeys ahead of the Festival? It's too early to tell, however, with the Grand National meeting taking place just a month after Cheltenham, don't be surprised if jockeys are extra tentative and risk-averse when heading up the famed hill. 
Not only will jockeys and trainers be concerned about the potential suspension that awaits the riders if they are found to be in breach of the rules – the threat of disqualification is equally as worrying.
"I think it's scary. It's something that really worries me. It's one thing I would lie in bed at night thinking about; you could win a Gold Cup and lose it the next day," trainer Gordon Elliott said.
"My biggest worry is for an owner. They pay all the training fees, buy the horse, do everything, and they could win at the Olympics which is Cheltenham and get a race taken off them for doing absolutely nothing wrong."
If Elliott's comments are anything to go by – not only will the whip rules likely dominate the headlines in the lead-up to Cheltenham, they could also play a larger role in this year's results than ever before.
Comments
comments