Over the past several months, a weed growing out of the center of a traffic cone has captivated the hearts of thousands around the Huntersville community.
It all started early this summer when a landowner neglected to mow a tiny piece of grass around a small traffic cone.
Somehow, one small weed was able to grow up inside of the cone, and shoot out directly through the center.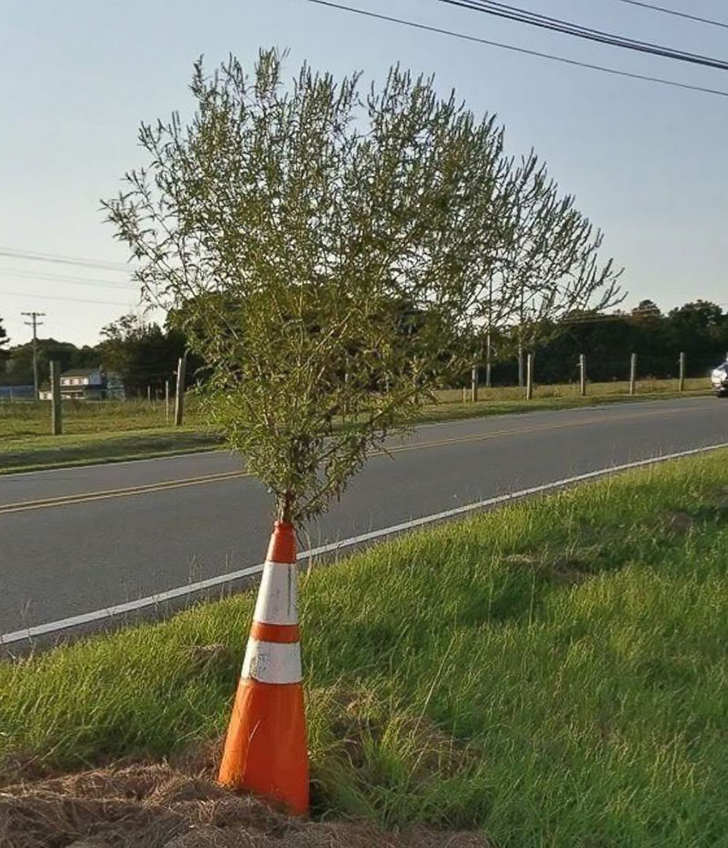 About a month after all the leaves died off of the now sizable weed, a good Samaritan decided to decorate it for Christmas;
and a few days later, someone droped off some presents;
"Two weeks ago it was suddenly decorated in the spirit of Christmas. We're calling it magic," the fire department's public information officer, Bill Suthard, told ABC News. "It was the magic of the season. It had Christmas lights on it, it had a timer to come on at 7:30 at night and would go off in the morning. It had ornaments."
Soon it became a regular tradition around town to take a shot of Cone Weed, drop a gift off, or just say hi;
As the Cone Weed craze continued to grow, local graphic designer Brian Blackmore decided to use the phenomina for a campaign to help the less fortunate. He designed some Cone Weed shirts and sweaters and launched his campaign on TeeSpring.com in support of a local non-profit called Hope Match;
Brian's initial goal was to sell just 20 shirts, but after the Huntersville Fire Department joined the campaign and a $10,000 matching donor came on board, things really took off;
A local elementary school even joined in on the fun;
and a local baker made some custom Cone Weed cookies;
The Huntersville Fire Department and Hope Match have now sold 950+ shirts and raised more than $14,000 for families in need this holiday season.
Things were really looking up for Cone Weed – it had brought a community months of joy, and raised thousands of dollars for charity, but this past Monday morning, tragedy struck….
As hundreds of Huntersville residents were driving to work Monday morning, they were shocked to see an empty plot of grass where Cone Weed grew up.
After a few hours of conspiracies and hysteria on social media, the NCDOT released a statement;
Update: crews removed #ConeWeed since it was so close to the road. They didn't mean to be a Grinch and disrupt a positive community effort. We're taking Cone Weed to @Huntersville_FD this afternoon for safe keeping. We hope Cone Weed continues to spread holiday cheer.

— NCDOT (@NCDOT) November 20, 2017
They removed Cone Weed for being too close to the road and permanently relocated it to the Huntersville Fire Station;
Happy to report that the remnants of #ConeWeed have been returned by @NCDOT to our Station 2. While the actual weed may be gone; it's spirit lives on. We're amazed that we raised close to $8,000 in the last 6 days of its existence, ALL for families in need. #OneTownOneWeed pic.twitter.com/6NnAs2zvhC

— Huntersville Fire (@Huntersville_FD) November 20, 2017
For now, it seems, Cone Weed is happy with his new home.
Comments
comments