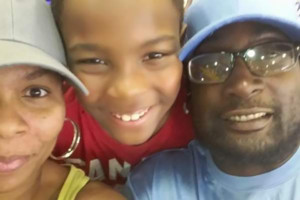 Keith Lamont Scott was just laid to rest over the weekend in his hometown in Charleston County, SC.
His funeral was initially delayed due to Hurricane Matthew, but even in spite of the change in schedule, a few hundred family members, friends, and supporters filled James Island's First Baptist Church to pay their respects.
Several tribute services also took place over this weekend to honor and pay respect to the Scott family:
Scott, 43, was the father of seven children ages 25 to 9. His immediate family wore all white for the funeral, where emotions ran high.
The North Carolina State Bureau of Investigation (SBI) is still investigating the shooting, and they have yet to release the autopsy conducted by the medical examiner, but the Scott family has now conducted their own.
The family's autopsy, which was released late last week, showed that Scott was shot three times, with a fatal shot to his back. The Scott family still disputes the police account of the shooting.
CMPD has requested an independent investigation by the Police Foundation in Washington D.C., and they will continue to look deeper into the department's practices.
You can find out more about the Keith Lamont Scott shooting and protests that followed on our live-updated article here.
Comments
comments