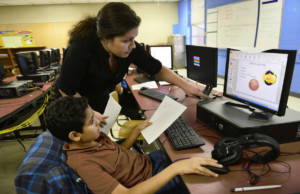 Junior Achievement of Central Carolinas (JACC), the premier organization dedicated to educating youth to develop skills needed for workforce readiness, entrepreneurship, and financial literacy, has announced its partnership with Charlotte Mecklenburg Schools (CMS) to connect area students with immediate internship opportunities throughout the city of Charlotte.
Job Connect offers seniors from selected Title I high schools a skills-based education to prepare for the workforce, leading to immediate paid internships in industries that align with their abilities and interests. This pilot program, coordinated by CMS Career and Technical Education (CTE), will provide work-based learning experiences by leveraging opportunities with Charlotte-area companies. Students from CMS Title I schools will spend three periods a week developing soft skills to prepare them for the workforce. Two additional periods will be focused on work-based learning at Junior Achievement's new facility in Camp North End. Charlotte-area employers partnering with the pilot program will provide workplace internship opportunities for the students throughout a range of industries including construction, manufacturing, hospitality and more.
"We are excited to partner with CMS on the Job Connect pilot serving high school seniors from Title I schools," said Sarah Cherne, President & CEO of Junior Achievement of Central Carolinas. "The joy of this pilot is that we are empowering the students to understand how they are wired so they may choose an industry that fits their strengths, and then equip them with the tools they need to be successful. We are thrilled to assist our students in discovering their strengths, talents, and abilities while connecting them to career path opportunities directly out of high school."
Five CMS Title I high schools have been chosen for the pilot program: Garinger, Harding University, West Charlotte, West Mecklenburg and Vance. To qualify for this program, students must be seniors who are 18 years of age (or close to turning 18), have between a 1.5-2.5 GPA, and have already earned enough credits to allow for program participation prior to graduation.
"This is a wonderful opportunity for our students to learn about careers right here in Charlotte-Mecklenburg and gain work experience before they graduate," said Susan Gann, Director of Career and Technical Education at CMS. "Our partnership with Junior Achievement of Central Carolinas will help prepare our students for the workforce and get them excited about their future."
Comments
comments