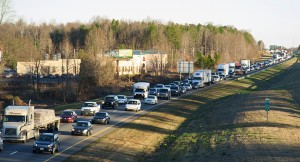 Cintra has just announced new dates for opening the first sections of the highly controversial I-77 Toll Lanes.
The northern part of the project from Exit 36 to just above Hambright Rd. will now open in the first quarter of 2019, with the remainder set to open sometime in the summer.
In a statement, Javier Tamargo, CEO of I-77 Mobility Partners commented;
"We are proud that the express lanes project will still be delivered much faster than traditional road construction and financing would have allowed."
The project's contractual deadline with the NCDOT is set at October 2019.
Cintra also recently released the final costs of the tolls once they open.
According to their website, they will initially charge $6.55 to drive 1-way along the entire length of a toll lane during rush hour for the first 6 months of operation and $9.40 for that same trip thereafter.
This means that after 6 months, driving round trip from Mooresville to Uptown Charlotte during rush hour times will cost motorists a total of $18.80 per day.
Most drivers will end up paying for segment changes (totaling up the individual sections they drive and at what time). For example, driving on the toll section from 277 to I-85 will cost $2.62 during rush hour and $1.46 at 1am on Tuesday morning.
What are your thoughts on the new I-77 toll lanes? 
Comments
comments