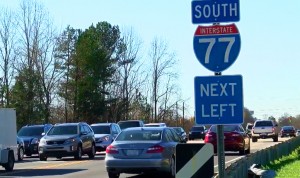 Almost two year ago, a group of concerned citizens gathered on the Exit 28 bridge to stand against the i77 toll lanes – that group is now an official non-profit called 'Widen i77'. Since then, they've seen the towns of Mooresville, Davidson, Cornelius and Huntersville as well as the counties of Iredell and Mecklenburg all pass resolutions either asking for the toll lanes to be stopped or delayed.
In one of the biggest public displays of opposition to the toll lanes, the group is about to hold their second rally on the Exit 28 bridge.
North Carolina is currently in the process of determining the cost of changing the toll lanes to free lanes. The Widen i77 group is now hoping that if enough people show their opposition, the tolls might be changed to normal lanes.
The public rally will be held on Friday, April 28th, from 5:30pm until dark (stop by even if you're late) at the Exit 28 bridge in Cornelius – anyone who opposes the toll lanes is welcome and picket signs are encouraged!
Comments
comments