At the end of a tiring day you have your own version of shower meditation in the bathroom to rinse of the chaos of the day. So, picking the right tile for your bathroom which complements your style is very important. There is a list of things to consider while picking the right tile. There are so many materials and designs, so it might be a bit overwhelming when you first get to it. Here are 6 easy steps to pick the right tile of your style. 
Contemplate Budget
Tiles come in all price ranges with strikingly beautiful styles, shapes and size. So, considering the budget first might be a good idea to avoid getting tangled in the way. Porcelain tile clay is denser than ceramic ones' resulting in more costing of raw materials. So, generally porcelain tile is more expensive. But both the ceramic and porcelain tiles offer a large range of prices and designs. So, as you go up the ladder in price range both are pretty similar. With its uniqueness and scratch resistance natural stone tile is the most expensive of the bunch. 
Material: Ceramic vs. Porcelain vs Natural Stone 
The first thing to know about these materials is that porcelain and ceramic are not different kinds of tile. Porcelain is one of the varieties of ceramic with more purified clay. And for simplicity's sake it is best to forget about the difference between the two and focus more on which fits your design theme best. 
 Still if you have unique requirements and need to contemplate the difference you might want to consider appearance, water resistance, durability and lifespan. Porcelain tile has a larger scale of designs as they can be designed to resemble different materials such as natural stone or wood grain. While most ceramic has only solid color and patterns. Porcelain has slightly better water resistance as well. Ceramic tiles come in both glazed and unglazed versions. So, for floor tile non glazed ceramic tile might be a better option, as it is less slippery. On the other hand, if you are going for a bit modernist bathroom design with a unique touch you may consider Natural stone as well. 
Choose Color and Theme
Firstly, you should think if you want a bold look or neutral look. You should consider the size of your bathroom and lighting before you pick the color palette. You can take multiple approaches to designing a theme.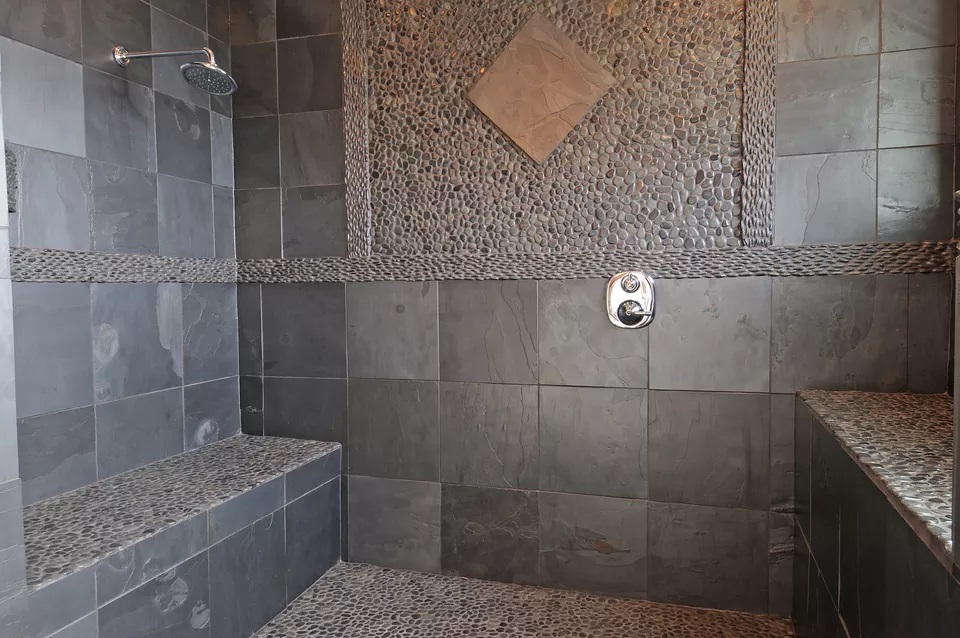 You can mix and match multiple tile patterns of the same color to create your own design. Though, we suggest not to go for more than three patterns in this case. Or you can go for a simple tile pattern with one exceptional showstopper. It's best to consider your cabinets color first to match well with the tiles. 
Both, ceramic and porcelain have a large variety of designs. Natural stone tile gives the bathroom one of a kind look, as each stone is different. 
Consider Tile Size and Feel Appeal 
You might want to think of the size of the tile as it makes a huge difference in the appearance. Whereas smaller tile gives a more detailed look, bigger tile makes the space look bigger. So, if you have a smaller bathroom you might want to go for a bigger tile. Large scale tiles are the trend these days, but for bathroom floors you should consider small cut tiles for a more slip resistant shower. Mosaic tile is a great option for bathroom floors with its small size and more grout lines in the design. 
One important thing people often forget to consider is how the tile might feel. Whereas mosaic can be a great option for floor and wall, slab or large cut tile feels nicer on a shower bench to sit on.
Maintenance 
While designing a bathroom you must consider the maintenance. If you are looking for easy to clean and maintain, you should go for ceramic or porcelain. Natural stone tiles are porous (so holds on to dirt more) and requires more maintenance. Mosaic tiles with its grout designs can be difficult to clean as well. 
One more thing to consider is, Ceramic tile has plain white color on the inside whereas, porcelain tiles are of the same color inside out. So, if the tile gets even slightly chipped, in case of ceramic tile it is very visible. Porcelain is a better option in such cases.
Kids Bathroom 
While you might go for an elegant look with natural stone tile for your bathroom, you need to think differently if you are considering the kid's bathroom. A colorful palette might be a better option for this case. Or, you can go for the light color tile with adding in pops of color with cabinets and accessories.  
Safety is a bigger issue in kids' bathrooms. So, unglazed ceramic or mosaic patterns should be considered for the floor. Natural Stone might not be a good option for a kids' bathroom as some stones are more prone to chip easily and need more maintenance.
Comments
comments