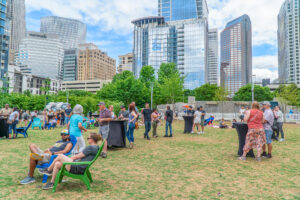 As the living space is a top priority nowadays, we wanted to see in which of the best American cities for renters you can get the most space for your money, considering the national average rent of $1500. Charlotte is one of the places to be if you're looking for ample rental apartments. What's more, the city was named the 7th best city to rent in 2022.
Here's what makes Charlotte a great city for renters:
For a monthly budget of $1500, renters in Charlotte get 893 sq.ft., the 34th largest apartment space in the nation. The average dweller pays $1559 per month in Charlotte, mirroring the national average rent paid by Americans.
Cost of living and Housing: Charlotte is one of the most competitive cities among over a hundred cities analyzed, thanks to the quality of its high-end apartments that make up more than half of the stock (68.4%), along with a generous average size in apartments, of 943 sq.ft.
Local Economy: Charlotte scores best in this category, a position strengthened by one of the lowest unemployment rates, of 4.9%. The city enables accessibility to higher education since almost half of the people in Charlotte hold at least a bachelor's degree. The city also boasts proactive entrepreneurs, as it holds the 9th position in new business applications filed.
Quality of Life: Charlotte ranks excellent in the quality-of-life category, thanks to one of the best schooling systems in the nation. Moreover, the residents of Charlotte enjoy days with good air quality for more than half of the year – 187 days. The city also had an increase of over 20% of new apartments delivered in 2021 alone. Many of these apartments are built in top locations, a metric showing signs of good neighborhoods, vicinity to shopping centers and easy access to the site, by either public transportation or personal means.
Comments
comments