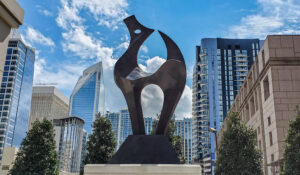 North Carolina has some of the best places for renters in the nation, with Raleigh named the second-best and Charlotte seventh-best city in 2022. The Queen City outranks larger hubs, such as Austin.
For this ranking, the team at Rent Cafe used a unique combination of 17 metrics and proprietary data. In addition to what it costs to live in America's cities, they also looked at the selection and quality of apartments, the quality of their neighborhoods, occupancy rates, local economy, air quality, job opportunities and more.
In terms of local economy, Charlotte scores best and holds the 19th position among all the cities analyzed, boosted by one of the lowest unemployment rates, at 4.9% and proactive entrepreneurs, as it holds the 9th position in new business applications filed. The city also enables accessibility to higher education, since almost half of the people in Charlotte hold at least a bachelor's degree.
Charlotte is one of the most competitive cities in terms of cost of living & housing, ranking 24th among over a hundred cities analyzed, thanks to the quality of its high-end apartments that make up more than half of the stock (68.4%), along with a generous average size of 943 sq.ft. in apartments of all kinds.
Zooming in to housing, Charlotte had an increase of over 20% of new apartments delivered in 2021 alone. Many of these apartments are built in top locations, a metric showing signs of good neighborhoods, vicinity to shopping centers and easy access to the site, by public transportation or personal means.
Charlotte ranks excellent in the quality-of-life category, boasting the 30th position across the U.S., thanks to one of the best schooling systems in the nation. Moreover, the residents of Charlotte enjoy days with good air quality more than half of the year – 187 days.
Among the 10 best cities in the country, four others from the Carolinas appear. Greenville and Charleston, from South Carolina, came in places 4 and 8. From North Carolina, Raleigh occupies the 2nd place, while Ashville managed to secure the 40th.
Why are small and midsized cities, such as Charlotte, appealing? Jill Ann Harrison, Associate Professor and Director of Graduate Studies, Department of Sociology, University of Oregon argued that here "it is easier for people to take risks, to become small business owners and contribute to the local economy and culture". These cities also "have a lower cost of living with a smaller but vibrant local scene".
Comments
comments