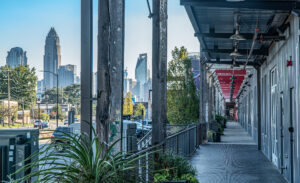 As 
one of the fastest-growing
 and the 
15th most populous city in the US
, Charlotte has seen a lot of changes in recent years. But a casualty of this rapid growth and strong real estate market has been Charlotte's historic buildings. Many of Charlotte's older buildings are now gone forever after being torn down to make way for new housing and commercial developments. While it's not only happening in Charlotte, with each building that is demolished, an important part of the city's history goes with it. But we can do something about it.
Charlotte's Lost History
While there are more than 
2,600 national historical landmarks in the US
, those in disrepair, abandoned, or simply don't fit in with the city's plans could be torn down. The iconic 1914 Masonic Temple on South Tyron and the 1903 Mecklenburg County's first library are just two important buildings now gone forever. While not all historic buildings are architectural wonders, they are an important part of the city's history and character. With such a rapid pace of redevelopment in Charlotte, we must look at how we can safeguard the city's history by 
preserving its landmarks and architectural icons
 while at the same time meeting the needs of a modern growing city.
Repurpose Old Buildings
One of the most effective ways to preserve a historical building is by changing its original purpose through adaptive reuse. While preserving the building's key historical features, adaptations are made to the internals to accommodate a new purpose. 
Adaptive reuse can transform old buildings
 into modern offices, apartments, museums, or visitors. A good example is Rural Hill Plantation in Huntersville, now a wedding venue and hosts the Highland Games. By repurposing buildings in this way, Charlotte can keep hold of some of its history and character while transforming the interiors for modern use.
Get The Community Involved
Preserving any historic building is a group effort. When you have a team of like-minded people, you'll have a greater reach across the community and help you be more successful. Get in touch with historical groups in your area, such as The Mecklenburg Historical Association and the Charlotte Museum of History. They will already have experience of local preservation and be able to offer their knowledge and support. They may even be able to help with collecting donations towards the preservation project. You also need to get community organizations, local government, and historic preservation officers on board.
Secure Funding
Preserving aging buildings is not a cheap exercise, especially if it will involve renovating, restoring, or even moving the building to a new location. Securing enough funding can take between six months to many years and you may not be able to secure all the funding you need. However, working alongside a professional fundraising consultant or non-profit can help you plan an effective fundraising campaign. You can also look to get funding through state grants, private funding, donations, and tax credits.
Historic buildings are witnesses to the cultural and aesthetic history of a city. They help us stay connected to the past and help to shape our future. It may take a lot of time, money, and effort, but it's never been more important to preserve Charlotte's historic buildings before it's too late.
Comments
comments