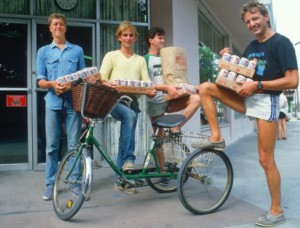 Harris Teeter recently announced that they will be allowing Shipt, the fastest growing online grocery marketplace, to deliver alcohol in the Charlotte region.
Shipt members who are 21 years and older in the Charlotte area can now have Harris Teeter's selection of beer and wine delivered to their home. As a perk to members, deliveries are free for all orders over $35, inclusive of beer, wine and grocery items. Charlotte is the first market where Shipt is delivering groceries and alcohol from one store, further demonstrating the company's commitment to making lives easier across the Charlotte metro area.
"Shipt launched its service partnership with Harris Teeter in the Charlotte area in October and has received incredible customer feedback ever since," said Bill Smith, founder and CEO of Shipt. "Harris Teeter is a community staple and has built a loyal customer base, and we are honored to work with such a well-respected brand. Charlotte has truly embraced Shipt for grocery delivery, and members will now be able to enjoy the convenience of alcohol delivery as well."
The full selection of items in stock at Harris Teeter's local stores will be available to Shipt members through the app. Members can select a one-hour delivery window with delivery times available as soon as one hour after the order is placed. To verify age, members will scan their IDs through the app and will be required to present the same identification to the Shipt Shopper upon delivery.
Shipt initially started in Alabama after seeing the wild popularity of Amazon Prime Pantry grocery delivery service, which launched back in 2014.
Comments
comments