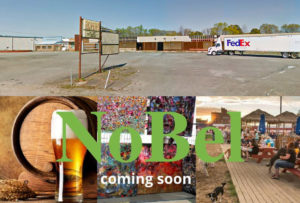 A pair of business partners are now planning on transforming a mostly abandoned section of Northern Belmont into the Charlotte region's next hot area.
Jay Pithwa and Gene Kropfelder are calling the new area "NoBel", taking inspiration from Charlotte's eclectic NoDa area.
Pithwa and Kropfelder currently own two massive retail structures sandwiching Woodlawn Street next to the North Belmont Elementary School;
They just started demolition on the old Roper's shopping center.
View this post on Instagram
Their first venture in the self-rebranded area will be Gaston County's first and only dog bar, to be named "The Thirsty Dog". Once built and approved by county leaders, the facility would operate as a private club and allow dogs to run freely around in an exterior fenced-in area and come inside while on a leash.
If everything goes smoothly with The Thirsty Dog, Pithwa and Kropfelder hope to incorporate a new brewery, an artists studio and gallery, and a restaurant into the old Roper facility.
They also hope their projects and the growth pushing up from downtown Belmont and the River District will help to spur even further development in the once forgotten section of North Belmont.
What are your thoughts on the new 'NoBel' area?
Comments
comments