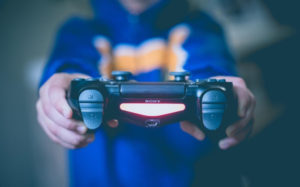 Staying at home during this Covid-19 period can be tedious, but it shouldn't stop you from playing games with your buddies. Many video chat options like Zoom, Skype, and Face Time, let you play games and stay connected from the comfort of your home. Even 918Kiss and similar platforms have interesting and engaging content for dull days during a pandemic.
Below are eight entertaining games you can enjoy with your friends wherever you happen to be locked down.
Fortnite
The popular game doesn't need an introduction—jump in and squad up with your friends anywhere. Use your imagination to build a fort, take out enemies hiding behind walls, and battle to the last man standing. 
Fortnite opens up a world of possibilities where you shape battlefields by developing your personal cover. 
As a bonus, the game is free on Xbox One, Switch, PC, PS4, and mobile.
Minecraft
Developed by Mojang Studios, Minecraft is an immensely enjoyable game that lets you explore infinite worlds and build structures, from the simplest homes to the most spectacular castles. Not only is it fun to play, but it also sharpens your creativity. 
It is freely available on the Xbox Game Pass. You can play alone or with friends—eight members can join the game and build in Creative Mode. Survival Mode lets you mine deep into the earth, make weapons, and fend off deadly mobs.
Jack Box Games
A sequence of rib-tickling games to help you beat the COVID-I9 boredom, you can play new questions or come up with your own. In Trivia Murder Party, you can face-off with a trivia-obsessed killer in a deadly quiz show. 
Bring seven friends onboard, then brainstorm and answer questions that keep everyone on their toes until a winner emerges.
NBA 2k20
If you were a fan of the real NBA, this virtual game will keep you engaged as you wait for the season to resume. Practice shooting or play against your friends in online stadiums.
Access the game free on Xbox Game Pass or get it on digital marketplaces at $30 for physical versions on Xbox One, PC, Switch, and PS4. 
Sea of Thieves 
Go on a global adventure and explore beautiful beaches and captivating reefs. Awaken your inner pirate and chart your course for hidden treasures in a treacherous world. From sailing the rough seas and fighting to exploring islands and looting, Sea of Thieves recreates a real pirate experience. 
Bring your friends aboard and battle it out to steal hard-earned pirate loot. 
It's freely available on Xbox Game Pass, and it is $50 on PC and Xbox.
DRL Simulator
If you are into high-intensity racing games, DRL simulator will sweep you off your feet. It's a premier FPV racing game-cum-simulator in high-intensity drone races. 
DRL features the tracks that real drone racing pilots use with new contests added each season. You can freestyle or face your opponent's drone in real-time multiplayer mode for riveting action scenes.
House party
A face-to-face app that connects you with the seven friends via video call, House Party lets you play several games, such as Trivia, Quick Draw, Heads Up, Chips, and Guac.
Monopoly
Monopoly is now online, too. You play the bots, but it's much more fun to take on your friends. Build homes, trade land, win auctions, and laugh. The virtual game is as gripping as the physical board game. 
With the above list of online games, your virtual hangout will be just as entertaining as your last in-person games' night. Who says the COVID-19 period can't be fun?
Comments
comments