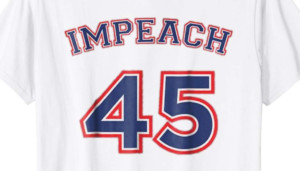 Franklin Graham, son of legendary evangelist Billy Graham, is increasing his efforts to sell an alternative t-shirt to the controversial "Impeach 45" shirt.
Last year, Walmart made headlines when they started selling the "Impeach 45" shirt in their stores, but after a wave a right-wing backlash, they pulled the shirts from their stores. Since then, dozens of other retailers began making and selling the shirts in their own shops and on Amazon and Ebay.
Soon after Walmart pulled the shirt from their shelves, Franklin Graham voiced his disapproval for the shirt, and announced that his Charlotte bookstore, Ruth's Attic at The Billy Graham Library, would begin selling an alternative to the "Impeach 45" shirt, one which instead read "Pray for 45".
Today the son of the famed evangelist started pushing his alternative shirt once again, this time using his daughter as a model;
You can find the 'Impeach 45 T-shirt' here.
You can find the 'Pray for 45 T-shirt' here.
You can even find the 'Praying for 45 to be Impeached' bumper stickers here.
What are your thoughts on the t-shirt controversy?
Comments
comments