Update 9/25/2018 9:00am:
Invest 98, one of the 2 systems that broke off of the remnants of Hurricane Florence last week, is now showing a 50% chance of developing into a cyclone over the next 48 hours.
The National Hurricane Center sent out the following alert about Invest 98 this morning:
"1. A broad area of low pressure located about 260 miles south of Cape Hatteras, North Carolina, continues to produce showers and thunderstorms on its north side. Satellite and surface data indicate that the circulation of the low is elongated and not well organized. However, this system could still become a tropical depression later today while it moves northwestward. By tonight and Wednesday, additional development appears unlikely, due to strong upper-level winds, while the system moves northward and north-northeastward near the southeastern United States coast. Regardless of tropical cyclone formation, this system is likely to bring scattered showers and thunderstorms across portions of northeastern South Carolina and eastern North Carolina later today and tonight. In addition, dangerous surf conditions and rip currents are expected along portions of the North Carolina coast today."
Here is what the storm looked like this morning;
Update 9/23/2018 9:00am:
Ben Noll, with the National Institute of Water & Atmospheric Research, put together this video, showing the progression from Florence to Invest 98;
Here's #Florence, the whirling dervish of 2018, from hurricane to remnant swirl.

This storm is poised to skirt coastal North Carolina (for a 2nd time) on Tuesday with rain … National Hurricane Center gives it a 30% chance of regenerating 🚫 pic.twitter.com/OvqSkJtN36

— Ben Noll (@BenNollWeather) September 23, 2018
Invest 98 has strengthened some overnight and the GFS model is now showing a tighter path progression toward the Carolina coast;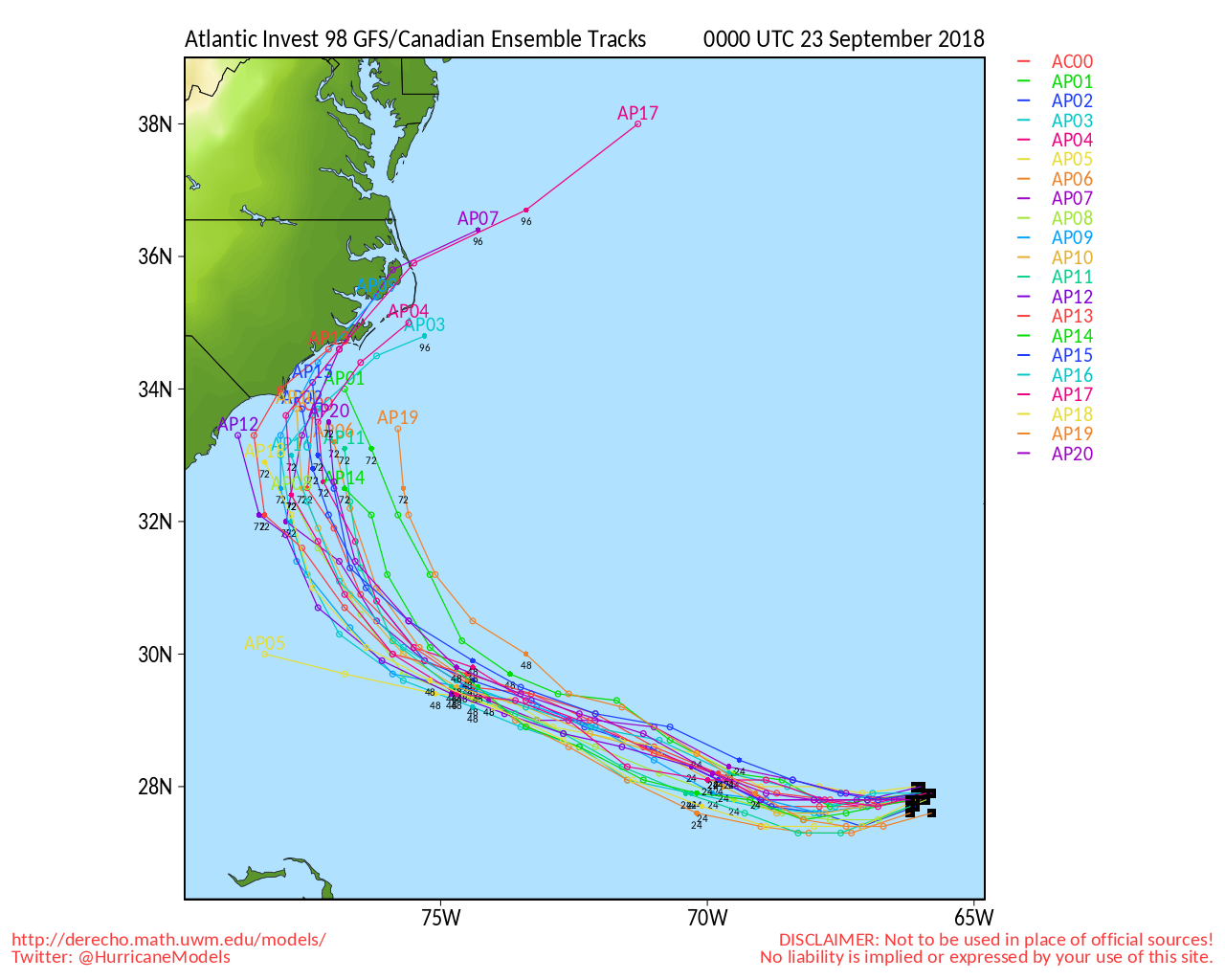 The latest intensity forecasts are showing the possible development of a tropical storm over the next 96 hours;
Original article 9/22/2018 9:00am:
Hurricane Florence is now being called one of the worst storms to ever hit the Carolinas, and although the storm first hit over a week ago, many parts of North and South Carolina are still being devastated by flood level waters.
To make matters worse, the remnants of Hurricane Florence (which broke apart into 2 separate systems) could be bringing more rain to the Carolina coast next week.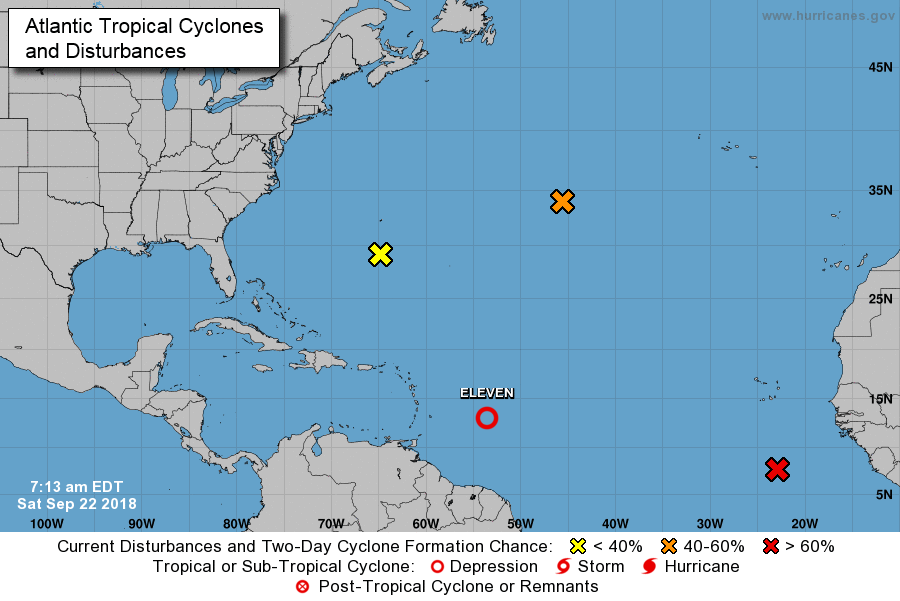 The part of Florence now threatening the Carolinas is called 'Invest 98' (the yellow X on the above map).
The GFS model shows the system creeping back to the Carolina coast over the next 96 hours;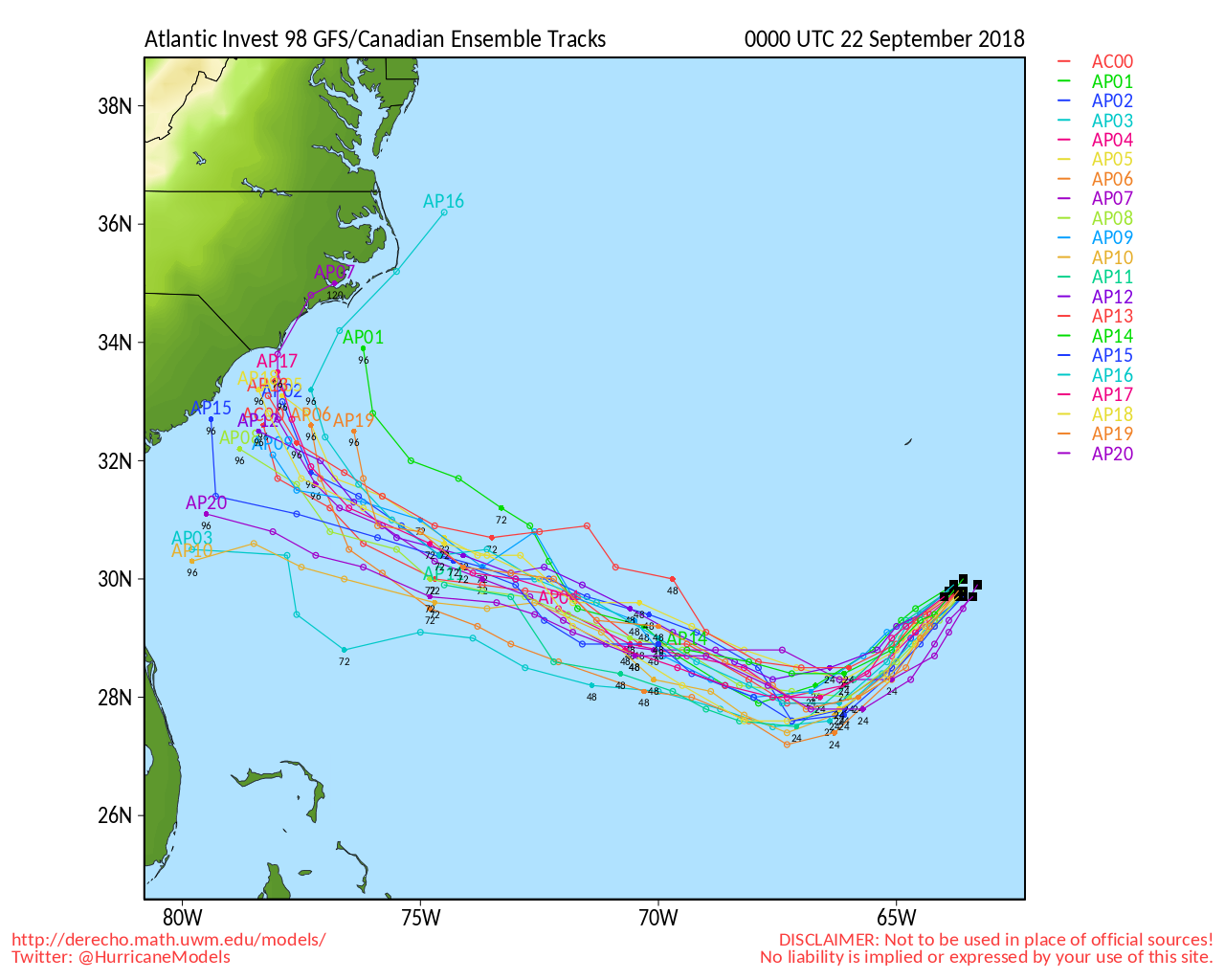 Ventusky shows the system first affecting the Carolina coast on Tuesday morning;
However, the Euro model shows the story weakening rather quickly over the next few days;
Invest 98 would not be a strong storm if it potentially makes landfall, but the last thing we need right now is more rain in an already flooded area.
We will update this article as the system develops.
Comments
comments