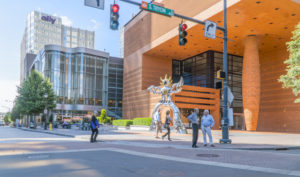 Portraying your business as a competent one is essential to ensure your customers, existing and potential, know that you are serious as well as committed to providing the very best. Continue reading for five simple strategies that you can adopt, which will help create a professional image for your business. 
Training
Staff development is essential regardless of the industry. If you invest a little capital into training your employees, the message you give off to all your clientele should be almost identical. Without adequate support, new members of staff can flounder and struggle to find their feet, possibly giving off the wrong vibe or providing people with inaccurate information. Training could involve shadowing a member of staff doing a similar role to the new employee. However, it can also involve an external agency or a member of the management team leading a session, such as data protection or safeguarding. Although the best companies offer employees the opportunity for ongoing professional development throughout their careers, they also ensure that a solid induction process is in place. Although some aspects of this will need to be clearly designed with your company in mind, to be sure of your business ethics being followed through, there are some areas where you can pay for your staff to take part in regular online training, which requires almost no effort. A combination of both approaches often works well.  
Marketing
It is rare to find a business that needs absolutely no marketing. Traditional and digital marketing are essential for most. You may have started out with a rushed logo and tagline. If that sounds like you, do not hesitate to overhaul your image if you are able to afford to do so. A simple but elegant logo is required by most, with the colors being carried throughout the enterprise. For example, a well-designed logo in teal and purple means that you could use those colors in your design within the building, on all your marketing information, within promotional videos, on your website, and so on. To ensure that you are giving off a professional feel, if you are unable to create posters or leaflets yourself, enlist the help of someone external, who will be able to do a much better job. Finally, always spell check and proofread marketing materials. The last thing you want is to become a laughing stock because you talked about pubic services instead of public services. 
Uniform
Expecting staff members who are public-facing to wear a uniform can support you in your efforts towards presenting a professional image. Tie them in with your company colors, and you will look as though you mean business. Whether it is a certain shirt for the members of staff working on reception or serving uniforms for your waiting staff, you can ensure that your employees are easily recognizable as well as look smart. You could even go one step further and add your logo as an embroidered embellishment to items, such as sweaters, aprons and shirts. Along with the uniform, encourage staff members to present themselves in a certain manner, with freshly washed hair, brushed teeth, the use of deodorant, and clean fingernails. It is possible to add a statement linked to this in your company's dress code policy document. 
Website
The vast majority of businesses these days has a website. If you have broken links or it hasn't been updated in a while, possibly providing out-of-date information, you will not be portraying the professionalism towards which you are aiming. Furthermore, the look of your site should be polished and user-friendly. Avoid too many advertisements, as they are off-putting, as well as choosing the colors wisely. Too much white and people could face eye strain; however, colors such as blue and red can clash, making text hard to read. Check out other websites to gain inspiration for yours. And, if you are unable to undertake the work yourself, be sure to employ the services of a website designer, who will ensure yours is functional as well as attractive. 
Social Media
Social media is another area that most companies find themselves dabbling in. Personal accounts are easy; you just say or share what you want to, without thinking much about the comeback. However, when it comes to business accounts, it is vital that the information you share fits in nicely with the professional image you are trying to portray. Avoid controversial items, such as politics, unless that is part of your work. Furthermore, be sure to avoid engaging unnecessarily with keyboard warriors or internet trolls, who will do almost anything to get a rise out of someone. Use polite language and be sure to respond to queries in a timely manner.
If you want to start a business, you can find more relevant information at companyformationnetherlands.com
Comments
comments