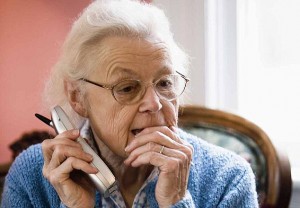 The FBI has just sent out a new warning, urging people to hang up on any calls from a woman screaming for help.
According to a press released from the FBI, the 'fake kidnapping' scheme works like this;
"Fraudsters will choose an affluent area such as Beverly Hills, California. They would search the Internet to learn the correct area code and telephone dialing prefix. Then they would start dialing numbers in sequence, trolling for victims.
When an unsuspecting person answered the phone, they would hear a female screaming, "Help me!" The screamer's voice was likely a recording. Instinctively, the victim might blurt out his or her child's name: "Mary, are you okay?" And then a man's voice would say something like, "We have Mary. She's in a truck. We are holding her hostage. You need to pay a ransom and you need to do it now or we are going to cut off her fingers."
Most of the time the intended victims quickly learned that 'Mary' was at home or at school, or they sensed the scam and hung up. This fraud only worked when people picked up the phone, they had a daughter, and she was not home, But if you are making hundreds of calls, the crime will eventually work.
The scammers attempt to keep victims on the phone so they can't verify their loved ones' whereabouts or contact law enforcement. The callers are always in a hurry, and the ransom demand is usually a wire payment to Mexico of $2,000 or less, because there are legal restrictions for wiring larger amounts across the border."
A couple months ago, a federal grand jury charged a 34-year-old woman in Houston woman with wire fraud, money laundering, and 8 other charges for her involvement in 'fake kidnapping'. This was the first official indictment for this type of scam.
The FBI recommends the following tips to anyone who might receive a fake (or real) kidnapping call:
In most cases, the best course of action is to hang up the phone.

If you do engage the caller, don't call out your loved one's name.

Try to slow the situation down. Request to speak to your family member directly. Ask, "How do I know my loved one is okay?"

Ask questions only the alleged kidnap victim would know, such as the name of a pet. Avoid sharing information about yourself or your family.

Listen carefully to the voice of the alleged victim if they speak.

Attempt to contact the alleged victim via phone, text, or social media, and request that they call back from their cell phone.

To buy time, repeat the caller's request and tell them you are writing down the demand, or tell the caller you need time to get things moving.

Don't agree to pay a ransom, by wire or in person. Delivering money in person can be dangerous.
If you are contacted by a fake kidnapper, you can call Charlotte's FBI division at (704) 672-6100, or submit your tip online at tips.fbi.gov.
Comments
comments