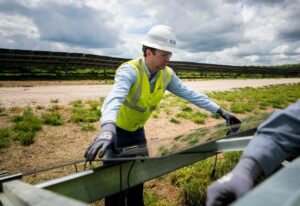 With the 144-megawatt (MW) Pflugerville Solar facility coming online today, Duke Energy reached a significant milestone – it now owns, operates, or purchases more than 10,000 MW of solar and wind energy throughout the United States from both its regulated and nonregulated businesses.
As one of the nation's top renewable energy providers, Duke Energy renewables portfolio includes nearly 200 sites in 22 states, with over 1,000 megawatts of new projects under construction throughout the country, including Florida, Texas, and the Carolinas.
At peak output, the company's current renewables portfolio capacity generates enough energy to serve the equivalent of approximately 2.4 million homes and businesses.
"Renewables are playing a major role as we make strong progress toward our ambitious climate goals of at least 50% carbon reduction by 2030 and net-zero by 2050," said Brian Savoy, Duke Energy's executive vice president, chief strategy and commercial officer. "This next decade will be our biggest ever, and we're well on our way to exceeding our decarbonization goals by growing our renewables portfolio to 16 GW by 2025 and 24 GW by 2030."
In addition to carbon reduction and the benefits of creating a diverse energy infrastructure, solar and wind development fosters economic development and job creation in the areas that Duke Energy serves. Currently, Duke Energy employs nearly 700 wind and solar technicians, project developers, support staff, and third-party contract workers, as well as provides more than $29 million in annual lease payments to local landowners. Additionally, at peak construction, renewable energy development generates hundreds of jobs in the communities where our projects are located.
"For more than a decade, Duke Energy has been delivering low-cost renewable power to our customers," said Chris Fallon, president of Duke Energy Sustainable Solutions. "These projects deliver significant economic and environmental benefits, while providing unique sustainability solutions for our customers and communities."
Looking ahead
Duke Energy has set a goal of reaching 16,000 MW of renewables by 2025 and 47,000 MW by 2050.
Renewable energy projects currently under development in the company's regulated and nonregulated footprint include:
| | | | |
| --- | --- | --- | --- |
| Project | Megawatts | Location | In-service date |
| Broad River Solar* | 50 MW | Cleveland County, N.C. | End of 2021 |
| Stony Knoll Solar* | 22.6 MW | Surry County, N.C. | End of 2021 |
| Speedway Solar* | 22.6 MW | Cabarrus County, N.C. | End of 2021 |
| Woodfin Solar | 5 MW | Buncombe County, N.C. | End of 2021 |
| Duette Solar | 74.5 MW | Manatee County, Fla. | End of 2021 |
| Charlie Creek Solar | 74.9 MW | Hardee County, Fla. | End of 2021 |
| Bay Trail Solar | 74.9 MW | Citrus County, Fla. | Early 2022 |
| Fort Green Solar | 74.9 MW | Hardee County, Fla. | Early 2022 |
| Sandy Creek Solar | 74.9 MW | Bay County, Fla. | Mid-2022 |
| Bay Ranch Solar | 74.9 MW | Bay County, Fla. | End of 2022 |
| Hardeetown Solar | 74.9 MW | Levy County, Fla. | End of 2022 |
| Hildreth Solar | 74.9 MW | Suwannee County, Fla. | End of 2022 |
| Pisgah Ridge Solar* | 250 MW | Navarro County, Texas | End of 2022 |
| High Springs Solar | 74.9 | Alachua County, Fla. | Early 2023 |
Comments
comments