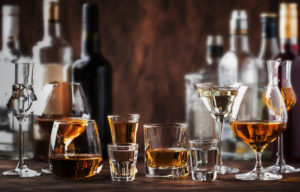 Whether it's a shot of whiskey, a bottle of fine wine, a mix of gin and tonic, or a beer, you deserve the best drink that's appropriate for the occasion. But despite a wide variety of drinks to choose from, you may still find it difficult to select the most suitable one for the celebration. 
For better ideas, you might require the help of online liquor stores which provide appropriate drinking tips like Usual Wines or any other similar sites to help you know more about the best drinks for specific occasions. 
Also, here's a list of drinks suitable for various situations: 
Champagne For Romantic Dinner Dates
Nothing beats a glass of champagne for celebratory drinks. This beverage is ideal for celebrating every milestone in your life, no matter how small or big they are. Champagne is known to have low alcohol content, allowing you to enjoy your events without getting drunk.
Also, one of the best occasions to enjoy a bottle of champagne is when you're on a date. Coupled with a romantic dinner date and a bouquet, this will make for a memorable date night. You can also choose from a variety of champagne options to make your night worthwhile.
This drink is also ideal for family reunions and celebrations. Events like these are made more special by sharing wonderful food and drinks with your family. Serving your family and guests with a bottle of champagne will make them feel cared for and honored. 
In building stronger work relationships, make your employer and colleagues try a bottle of champagne. This will help you form a stronger bond with them, which is crucial if you want to have a harmonious workplace. 
Whiskey For House Parties
Whiskey is one of the most popular alcoholic drinks in the world. While it's been originally made as a medical substance, whiskey gradually gained popularity over the world as one of the best drinks to celebrate one's milestone in life. 
A good bottle of whiskey shared with your friends in an afternoon board game session makes your day livelier and more enjoyable. This makes bonding moments with your friends worthwhile and meaningful.  Whiskey is also an ideal drink for camping and out-of-town getaways.
Also, a glass of whiskey is an ideal stress reliever if you had a bad day. Are you looking for a drink that will help you forget how stressful your day is? This drink is perfect for you. Drinking whiskey will make you forget your burdens for a while. You can drink it the way it is or make a cocktail out of it. 
Vodka, a liquor usually made from fermented grains and potatoes, makes for a wonderful drink. Like whiskey, vodka was also originally made for medical purposes. In fact, it's commonly used for healing purposes. 
Also, this odorless and colorless drink has been recently recognized as a popular alcoholic drink in the world. Vodka has a standard alcohol content of 40%, but the highest alcohol content it can have is up to 95%. Due to this, it's considered to be one of the most alcoholic drinks in the world.    
If you and your friends are at some hardcore party and looking for a drink that can hit you easily, vodka is perfect for that. This liquor type is enough to get you drunk fast due to its high alcohol content. A shot of vodka also makes for lively night-outs and makes you party like it's your last.
Because of its exquisite taste, beer has gained popularity worldwide. It's also considered one of the most common alcoholic drinks enjoyed by people all over the world. While many may share a different opinion, this kind of beverage has been a go-to drink for anyone who wants to have a good time after a tiring day.  
Beer has 3-5% alcohol content depending on the type of brew, which makes it a nice choice for solo drinking. Whether shared with your friends or family, a bottle of chilled beer is ideal for cold nights.
When partnered with bar chow shared with your friends during any given night, this drink will make for a fun bonding moment. Also, if you want to drink alone and you don't want to get too drunk, this beverage is perfect for you because of its low alcohol content. 
Wine For Business Gatherings And Meetings
Wine is an alcoholic drink ideal for any occasion. A bottle of fine wine can go with any dish you want—if you know the proper pairing. This drink is also ideal for meetings or any business gatherings you need to attend.  
If you want to enjoy being in an event without getting drunk, taking a glass or two would be enough for you. Just try to take it slowly to enjoy the moment better.  
Also, you can choose from a variety of wine selections. Some popularly known types are the following: 
Red Wine: Red wine is primarily made from dark red or black grapes. During the fermentation process, the skin stays with the grapes. 
Red wine comprises powerful oxidants which protect your blood vessels and may prevent blood clots. This drink is ideal to be served with main courses. Also, this type of wine aids in digestion and is a great complement for hearty meals.  
White Wine: White wine is primarily made from different varietals of white grapes. Before the fermentation process, the juice is separated from the skin of the grapes. 
White wine is known to improve heart health and may help prevent heart diseases. This type of wine is ideal to be served before the main course. It's served during the early hours of the night. If you're at a party, better choose this wine to start your night.  
 Rosé Wine: Having a hard time choosing between white wine and red wine? Why don't you try rosé wine? Its exquisite flavors give a good middle ground for those who don't outright favor whites or reds. 
Bottom Line 
Choosing the right drink for your special occasion may be challenging, especially with a variety of drinks at your disposal. Fortunately, you can now search for online drinking tips and recommendations to help you decide on specific wines or spirits. 
Also, the outcome of your special moments shouldn't depend solely on the kind of drink you have. After all, the drink is only a factor to enjoy your moments. What matters most is to whom you share your drinks and the amount of happiness you had at the end of the day.
Comments
comments