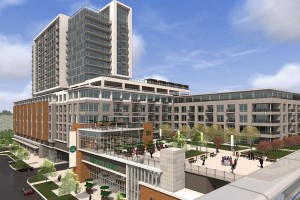 Crescent Communities is about to break ground on a massive new Uptown Charlotte development with Whole Foods as its main anchor.
Once completed, the new development will include; 450 luxury apartments, 2 hotels, 15,000 square feet of retail space, and a 47,000 square foot Whole Foods Market.
The developer will break ground in less than 2 weeks on the 5.4 acre project at the Lynx Light Rail's Stonewall Station.
"It is our vision that this Crescent community will redefine urban living in Charlotte. Whole Foods Market will be Uptown's first full-sized grocery store. Its size, combined with Whole Foods Market's holistic approach to the shopping experience, will allow residents, commuters and visitors to enjoy Uptown in an entirely new way." commented Ben Collins, Crescent Communities regional vice president.
The developer is now expected to finish the complex by the end of 2016.
Please share;
Comments
comments