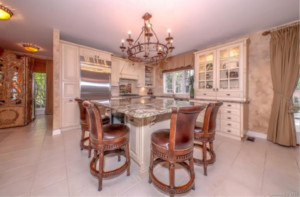 Springtime, sunshine, and imagination: this is all you need to start your renovation project in the kitchen. Springtime is a season where everything gets a fresh start – and this should apply to the walls of your kitchen as well. But what should you do if your kitchen is rather small? What colors work best in that scenario? Well, here are some ideas for you.
Golden Yellow
"Sunshine, daisies, water mellow, make this kitchen golden yellow!" This "spell" should make your kitchen look warmer and more welcoming, particularly when you paint your walls a warm golden yellow. That being said, if you go for this color pattern, you might want to avoid adding other colors as well – except for, perhaps, white. Black is also suitable and works with the golden color – but it might not be such a good choice for small kitchens.
Pure White
When in doubt, one should always go with white. The color itself is very calming – and, well, works with everything. White has a very good way of making a room seem bigger – thus, it is a good choice for those that have a smaller kitchen. Plus, another great advantage of white is that it goes with pretty much any other color. So, no matter if you have blue, cream or crazy pink cabinets, they will look phenomenal with white walls. 
Turquoise
If you are looking for a more retro look to your kitchen, you might want to try turquoise on your walls, and mix it with furniture colored in goldenrod yellow and chartreuse. Muted colors, however, are the ones that are in – but the finish of the cabinets will make everything seem more striking. Ceramic tiles will also improve the looks of your kitchen, energizing it, and making it seem more modern overall. 
Gray Mix
We're not saying that the entire kitchen should be just one shade of gray – but a mix of dove gray, charcoal gray, and silvery gray, for example, can make your kitchen pop. This monochrome thematic will allow you to easily move your eyes throughout the kitchen, allowing for a subtle transition between the highly complimenting colors.
Ocean Blue
Those that wish to go for a more calming kitchen vibe might want to choose ocean blue or some saturated aqua tones. Mix this with some cabinets that have been painted a pale minty color, and everything will automatically look breezier and brighter. Also, if you want to make the kitchen look more tropical, add some orange accents that will send you even further down the style shores. 
Grassy Green
Grassy green is a bit lighter in comparison to regular green, making it a fabulous choice for a smaller kitchen. This refreshing hue will not only calm you down and keep you connected with Mother Nature, but it will also make your kitchen look all the more spacious. It will mix harmony with luminosity – and if you mix it with wood colored/patterned lower cabinets and islands, you will get an interesting kitchen whose colors seem to pop. 
Creamy White
If white and yellow aren't exactly your colors, why not go for the in-between option instead? Creamy white will give you that same impression of spaciousness, making your kitchen look nice and elegant. One tip would be to go for a hue that has a yellow undertone, as it will make your kitchen seem even warmer. 
Paprika Red
If you want your kitchen to be less boring and more daring, then you might want to go for paprika red mixed with white, for example. How you mix the two colors is entirely up to you. You might go for a paprika red wall and white kitchen cabinets – or you may go for white walls with red cabinets. However, what's certain is that the red will make your kitchen seem more elegant, whereas white will make it seem even bigger.
The Bottom Line
In the end, the color that you choose should be based on your preferences. However, bear in mind that small kitchens benefit more from light colors, as they make it look more spacious. 
Comments
comments