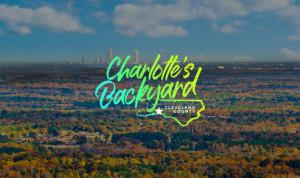 Last year we highlighted a massive new talent attraction campaign that Charlotte's neighbor, Cleveland County, was about to launch. While the smaller community seeks to attract people from all over the US, economic development leaders are hopeful that, because of their close proximity to Charlotte, they may be able to take advantage of our growing millennial population as we continue to expand upwards and outwards.
"The development of this campaign was something that we became convinced that we needed in order to position our community in a way that would strategically connect millennial talent to the manufacturing careers in our community," noted Kristin Reese, Executive Director of CCEDP. "Charlotte is projected to have the highest rate of millennial growth in the nation, and so by leveraging and strategically marketing our close proximity to that growing city, we feel it will help to fuel Cleveland County's talent pipeline."
"Cleveland County is attractive in that it has a great and affordable quality of life, and while it has the relaxed vibe of a smaller community – residents enjoy the benefit of having all of amenities of the big city located just 35 to 40 minutes down the highway. We are trying to spread the word that our community has over 170 diverse manufacturing companies in our community – and nearly all of whom are hiring" says Reese.
Since 2008, 75 companies have moved to the county or expanded their local facilities. That represents 4,000 new jobs and $6 billion in investment. Because of those economic development successes, the community was named by Site Selection Magazine as 2016's #4 Top Micropolitan in the US.
The campaign just released its flagship video that they believe captures the true essence of what it's now like to live in Cleveland County;
While some outsiders may question if the modern and upbeat video really describes the true feel of Cleveland County, most of the comments by residents confirm it;
According to their press release, Cleveland County summaries the video by saying;
"In Cleveland County, we're makers, doers, and adventurers—day and night, night and day. We go to work to make a difference. We make the machines, materials, and components that keep this world moving. After work, we hit the rapids and the trails. We head out to Newgrass Brewery for local craft beers and craft music. Saturday, we're hiking the Blue Ridge; Sunday, we're watching Cam and Luke dominate from our seats on the 50-yard line. We're not dreading Monday, we're excited for Monday's adventure.
In Cleveland County, we're not weekend warriors. We're Weeklong Warriors."
What are your thoughts on the new marketing campaign?
Have you ever thought about moving to Cleveland County?
Comments
comments