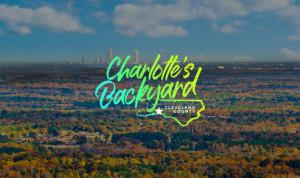 What's in Cleveland County?
Your first thought might be Knobby (North Carolina's own Bigfoot), Red Bridges (voted the best BBQ in America), or just that place you stop at on your way to Asheville…but a massive new marketing campaign is now hoping to change that.
The Cleveland County Economic Development Partnership just launched an online campaign to attract young "millennial" talent into what officials are now calling "Charlotte's Backyard NC."
"The development of this campaign was something that we became convinced that we needed in order to position our community in a way that would strategically connect millennial talent to the manufacturing careers in our community," noted Kristin Reese, Executive Director of CCEDP. "Charlotte is projected to have the highest rate of millennial growth in the nation, and so by leveraging and strategically marketing our close proximity to that growing city, we feel it will help to fuel Cleveland County's talent pipeline."
Cleveland County is more affordable, has the "relaxed vibe" of a smaller community, and is now home to over 170 manufacturing companies, says Reese. Since 2008, 75 companies have moved to the county or expanded their local facilities. That represents 4,000 new jobs and $6 billion in investment.
The new marketing campaign is focused on highlighting 4 main aspects of life;
"Find Your Craft" (working in Cleveland County)
and "Find Your Voice" (getting involved in Cleveland County)
"I moved to Cleveland County from Tucson, Arizona and soon realized that even though the pace of life here is slower, there is still a real energy and vibrancy. I've also realized the benefit of the low cost of living, and I appreciate how Charlotte's Backyard NC authentically reflects the essence of what makes our community so great – and why people like me enjoy working and living here," commented Nick Wiebelhaus, Plant Manager of Greenheck.
You can find out more about the new campaign on charlottesbackyardnc.com or on their Instagram page here.
Comments
comments