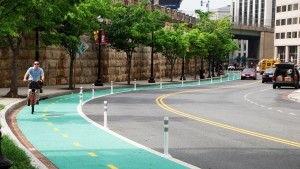 As Charlotte's traffic grows, the city continues to wrestle with how to not only increase public transportation, but also how they can better serve bikers and pedestrians on already crowded city streets and sidewalks.
Charlotte's Department of Transportation recently launched a new study they're calling "Uptown Connects," to examine how they link up parks and greenways to make it as easy as possible for non-motorized commuting all around the center city region.
The new study's notes, "The goal of this study is to identify challenges to and solutions for cycling and walking through Uptown between existing and future greenways and urban trail facilities."
One of the major goals of the study is to determine if the city should install dedicated bike lanes on one or more streets in Uptown.
A protected bike lane is an on-street bike lane separated from auto traffic by curbs, planters, parked cars or posts – something more than just a stripe of paint on pavement.
Local nonprofit group Sustain Charlotte are the main proponents pushing for the new isolated lanes that would connect multiple green-ways and offer and easy and safe path to ride through our city.
"There are protected bike lanes are being built all over the country, and we don't have any yet in Charlotte, and we think it's time that we have them too," remarked Sustain Charlotte's executive director Shannon Binns.
Many opponents to the bike lanes, however, argue that they would take up too much real estate on city streets that are already overcrowded with cars.
The CDOT is now planning public workshop on Sept. 20 to gather feedback from Charlotte residents. The workshop will be in the Room 267 of the Government Center uptown from 4 p.m. to 7 p.m. There will be a second meeting in November, with a first draft of the new plans scheduled to be complete by December.
Please share;
Comments
comments