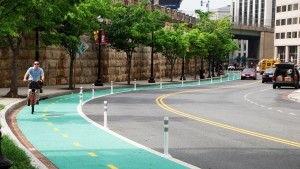 Local nonprofit group Sustain Charlotte recently announced a new city-wide campaign to build a protected bike lane through Uptown by the end of 2016. The most needed route seems to be from East to West from the Little Sugar Creek Greenway to the east, to the Irwin Creek greenway through Frazier Park to the west.
Mayor Jennifer Roberts has not publicly supported the protected lanes through Uptown yet, but Charlotte Center City Partners is working with Sustain Charlotte to gain enough public support to force the city into action.
They have launched an online petition and set up a website to explain the effort and inform Charlotteans what they can do to help.
A protected bike lane is an on-street bike lane separated from auto traffic by curbs, planters, parked cars or posts – something more than just a stripe of paint on pavement.
"There are protected bike lanes are being built all over the country, and we don't have any yet in Charlotte, and we think it's time that we have them too," remarked Sustain Charlotte's executive director Shannon Binns.
What do you think about protected bike lanes in Uptown?
Comments
comments