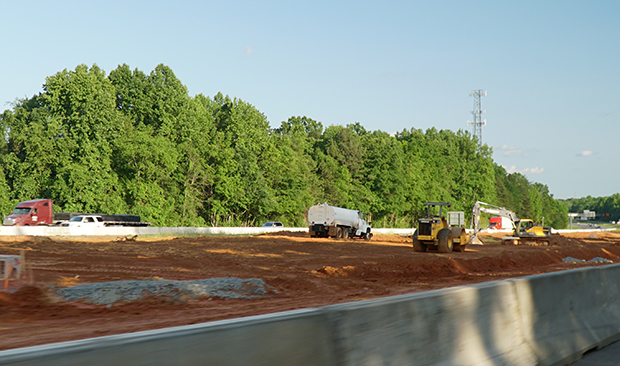 As Cintra prepares to officially open several sections of the I-77 toll lanes later this year, they've now released the complete list of toll charges for both I-77 north and I-77 south.
According to their website, they will initially charge $6.55 to drive 1-way along the entire length of a toll lane during rush hour for the first 6 months of operation and $9.40 for that same trip thereafter.
This means that after 6 months, driving round trip from Mooresville to Uptown Charlotte during rush hour times will cost motorists a total of $18.80 per day.
Most drivers will end up paying for segment changes (totaling up the individual sections they drive and at what time). For example, driving on the toll section from 277 to I-85 will cost $2.62 during rush hour and $1.46 at 1am on Tuesday morning.
On the "I77 Express Lanes" website, Cintra breaks down the toll lane costs in a rather complicated matter;
"Each link contains a chart representing a segment of I-77 Express, and each segment has a specific toll rate. A segment is the portion of I-77 Express between an entry and an exit point to/from the general purpose lanes. You can determine how much you will pay by using the following steps:
Look at the segment map on this page to determine which segment(s) you will use.
Click the corresponding segment description link(s) listed below.  Then, look at the chart to determine the toll rate for the time of day you plan to use the segment(s).  If you have a NC Quick Pass, E-ZPass, SunPass or Peach Pass, be sure to use the link(s) in the Transponder Rate list.  If you do not have any of the aforementioned passes, use the link(s) in the Bill by Mail Rate list.
Add the toll rates determined from Step #2 to determine the total cost of your trip."

| | |
| --- | --- |
| Transponder Rates | Bill by Mail Rates |
Cintra won't be opening all sections of the toll lane project this year, as scheduled. They are now hoping to have all sections of both the North and South-bound toll lanes open by Spring of 2019.
What are your thoughts on the new I-77 toll lanes? 
Comments
comments