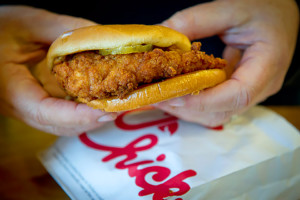 Great news for chicken lovers!
Chick-fil-A is once again hosting their annual "Cow Appreciation Day" for the 13th year in a row. The day is meant to remind us all how many cow lives are saved due to the chicken consumed at Chick-Fil-A.
On July 11th, anyone wearing a cow costume or cow accessory will be entitled to one free entree, according to their website, and any child wearing anything cow related will get a free kids meal.
Chick-fil-A will even have an active Cow Appreciation Day Snapchat filter during the event, allowing guests to share their unique experiences with friends and family.
All 43 Charlotte-area locations will be participating from store open to 7pm on July 11th:
Take a picture of your costume and tag #CLTStories – we'll pick our favorite and share it with our 130,000+ social media followers on Facebook, Twitter, and Instagram!
Comments
comments