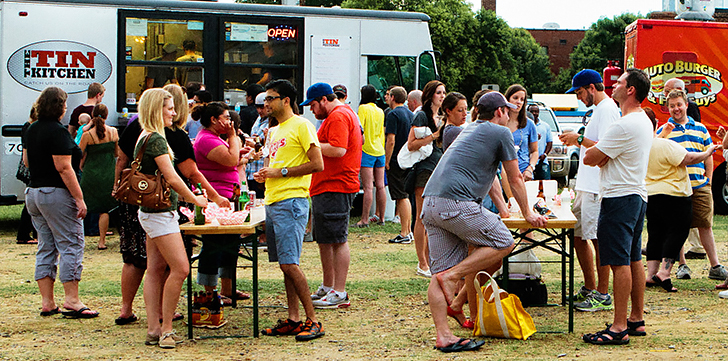 The sandwich transcends geographic lines.Two slices of bread or a wrap with something in between – seasoned pork, melted cheese or spicy veggies –pleases people across all cultures. For the third consecutive spring, Aldersgate will celebrate its diverse eastside neighborhood and the diversity of the omnipresent sandwich at a multicultural, multigenerational festival.
In 2016, Aldersgate exalted the culinary world's workhorse – and the ultimate convenience food – at the first International Sandwich Festival (ISF). The event has now grown into an annual happening. On Saturday, April 28 from 11 a.m. to 6 p.m., the senior living community hosts the Third Annual ISF, a community celebration of the sandwich – and of a neighborhood that's home to a rich diversity of residents and global restaurants.
"Nearly every culture has a sandwich that's sort of the national favorite," said Suzanne Pugh, Aldersgate CEO. "In Vietnam, it's the banh mi. South America has the arepa, and Cuba has its own version of a grilled meat-and-cheese. Our annual festival allows us to celebrate the diversity of cultures we have right here in our own neighborhood – and the diversity of cuisines those cultures have given us."
"Aldersgate rejects the old concept of 'retirement home,' Pugh continued. "We're creating a place where seniors live, play and learn – but this is also a place where people of all ages want to spend time. The intergenerational aspect of this festival represents who we are."
ISF admission and parking are free, and CATS Bus #23 takes guests directly to the festival. Food and drinks may be purchased. Guests are encouraged to bring blankets and lawn chairs and spend the afternoon.
The free festival celebrates the cultural diversity of east Charlotte, bringing international flavor and family-friendly activities to the front lawn of Aldersgate at 3800 Shamrock Drive. Sammies from around the world – and a rich blend of entertainment curated in part by UNC Charlotte – are part of a celebration that features food from restaurants and food trucks including A Piece of Havana,Arepadas, Chaupaati Casual Indian Kitchen , Yummi Banh Mi  and Hiya Food Truck.
Hardin Minor is the master of ceremonies. All-day entertainment will include salsa, merengue, soul and dance performances. Back by popular demand as the festival's finale is Persona Bell and her R&B band. They'll perform from 5 to 6 p.m. Bell, a singer/songwriter, pianist and entertainer, has performed all over the world, including at the White House, Carnegie Hall, Disney Hall and in Norway for the Queen.
This year's ISF offers plenty of children's entertainment – face painting, a make-your-own sandwich station, henna tattoos and a balloon artist.
"Our wooded campus is 231 acres," said Erin Barbee, Aldersgate's director of mission advancement and chair of this year's festival. "But you may have passed us hundreds of times without knowing we're tucked back here. We love inviting people of all ages to see what a gorgeous property we have. It's an honor to host everyone – and especially our eastside neighbors. We want Aldersgate to be a cultural resource for the entire community."
"Cultural understanding has become more necessary than ever," she added.
Currently scheduled performances, which continue to be added, include:
11:30 a.m.                                          JazzArts Youth Ensemble III
12:20 p.m.                                          Dances from the Philippines
12:45 p.m.                                          Rumbao Latin Dance Company
                                                            (Performance and dance           instruction)
1:15 p.m.                                            Orquesta Mayor
                                                            (Audience participation – Latin dancing)
2:15 p.m.                                            UNC Charlotte's Voices of Eden Mass Choir
2:45 p.m.                                            Flavors of India Dance
3:30 p.m.                                            Reinaldo Brahn Brazilian Rhythm
4 p.m.                                                  Ballet Folklorico of Julio Ruiz
4:30 p.m.                                            UNC Charlotte "Drums of the World"
5 p.m.                                                  Persona Bell R&B Band
Comments
comments