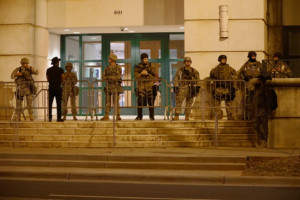 Today the State of North Carolina has just lifted the 'State of Emergency' that was put in place last Thursday after riots and looting ensued after the police shooting of Keith Lamont Scott.
After almost a week of military vehicles and National Guard troops patrolling the streets of Uptown Charlotte, they will finally be leaving our city.
North Carolina Governor Pat McCrory originally made the emergency declaration on Sept. 21 after CMPD Cheif Kerr Putney requested emergency assistance.
National Guard have been deactivated from Charlotte's streets, McCrory spokesman Graham Wilson said Wednesday night.
Governor McCrory commented today, "I want to thank the Charlotte-Mecklenburg Police Department, State Highway Patrol and North Carolina National Guard for working together to restore order over the past week. We will continue working with local law enforcement and officials to offer any further assistance needed."
Comments
comments