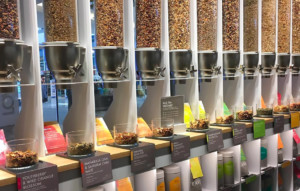 There will be 3 fewer places for tea time around the Charlotte region by Spring of 2018.
Starbucks has just announced plans to close all 379 Teavana stores across the country by early next year after another quarter of weaker than expected numbers.
The Charlotte area does have a few other tea-focused shops, including Unwind in Pineville, Okra in Plaza Midwood, and Tea Fusion Cafe in University City, but none of our local offerings are more popular than the 3 Teavanas in the Northlake, South Park, and Carolina Place malls.
Starbucks' made the announcement last week during their third quarter 2017 financial report. They said that the Teavana stores continued to be a drag on the company after Starbucks bought Teavana for $620 million in 2012.
"Teavana retail stores have been persistently underperforming," Starbucks' press release stated. "Following a strategic review of the Teavana store business, the company concluded that despite efforts to reverse the trend through creative merchandising and new store designs, the underperformance was likely to continue."
Starbucks says the 3,300 Teavana employees (an average of 8-9 employees per store) will be terminated.
Comments
comments