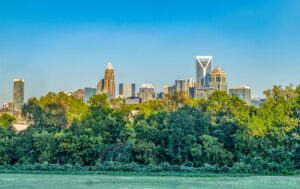 Charlotte is a major city in North Carolina with not far off 900,000 residents. But, for those who don't know much about the place, there may be surprises to be had for anyone visiting this summer.
The summer is here now, and tourists will be arriving in Charlotte in droves. The temperatures will be going up, and the anticipation of a good summer will be in the air.
For those that live in Charlotte, there is much to be happy about these days, and that includes the weather. Recently, Charlotte was ranked as the most affordable city with the best climate in the states.
But, it hasn't always been plain sailing. Sometimes the summers in Charlotte and parts of North Carolina can be exacting, to say the least. So, what has happened in Charlotte historically, and what should you expect from your summer this year?
Has Charlotte ever seen extreme weather?
In August 1983, North Carolina suffered – or enjoyed depending on your point of view – something of an extreme heatwave.
According to the US government's National Weather Service, it was in Fayetteville that the highest temperature ever was recorded for North Carolina. The temperature recorded at the city's airport was 110 °F. Charlotte didn't get off too lightly either.
During the same period, Charlotte recorded a high of 103 °F, although other sites such as Climate Spy have the city's record high as 104 °F.
Strangely, just two years later, the coldest temperature ever recorded happened. In 1985, according to Climate Spy, the temperature in Charlotte dropped to -13 °F in January of that year.
There have been a number of heatwaves in Charlotte and North Carolina in general over the years, and no doubt there will be more to come. This year in particular could be a rather warm one.
A word of caution about the Charlotte summer
Before looking at the predictions for this summer, there should be a small warning about the dangers of Charlotte's sunshine.
Visitors to Charlotte might not realize just how hot the city can be. This is especially true for overseas visitors coming to North Carolina for the first time. Florida and other locations in the states are famous for their sunshine, but North Carolina is a little more under the radar as far as international tourism is concerned.
Getting a tan is very desirable during the summer months, but the sun's UV rays are more than a little harmful. Experts today agree that the much safer self-tanning route is often the one to take.
This can allow you to tan outside for a much shorter period and very gradually develop a natural tan, while already looking bronzed. If you are going out in the daytime, especially when the sun is at its hottest, use protection and keep covered up.
Charlotte likes tourists, but the city prefers them not to end up frazzled by the super hot summer days.
What temperatures can Charlottians and tourists expect to see this summer?
According to USA.com, North Carolina ranks as just the 13th highest state when it comes to average temperatures. Clearly though, after reading about the extreme temperatures the state and Charlotte have experienced, this isn't the complete story.
Charlotte has very high temperatures at times, but the temperature can fluctuate throughout the year more so than say, Florida. This is why North Carolina isn't higher on this list. Overall, some residents may welcome the proper changes in the seasons, but not everyone enjoys the sometimes freezing cold winters.
The temperatures expected to occur in Charlotte this summer are as follows:
The average high temperature for July: 88 °F
The average low temperature for July: 70 °F
However, the overall picture shows there is the possibility of some rather more extreme days. The lowest temperature expected during this period is perhaps in the mid-60 degrees. But, the highest may hit, or even exceed, 94 °F. While it looks unlikely to get close to record-breaking territory, July could see some truly scorching hot days.
Will there be storms over Charlotte this summer?
Tourists and locals can expect the hot weather to be accompanied by some thunderstorms during the summer period.
Going through June, July, and August's predictions, it is clear that thunderstorms will appear in isolation and also scattered across the city. Some periods of June, namely the third week, could see some heavy rain. This will then head into lighter and less frequent bad weather for the last week of the month.
Does Charlotte command a high tourist rate?
With no disrespect to Charlotte, it is unlikely to feature on many tourists' lists of holiday destinations. It simply isn't as well known as somewhere such as Tampa Bay is in the UK for instance. However, the amount of tourists who come to this major city dwarfs destinations such as Tampa.
There are around 25 million visitors every year to Charlotte, and not only that, its home state has been praised regularly as one of the great destinations in the country.
North Carolina was ranked the 2nd best place for summer road trips in the states in 2021. Now that travel restrictions are fully dropped, it is hoped that more visitors will arrive in this state, and discover Charlotte for themselves. And, as far as road trips are concerned the coast is only a few short hours away too.
Summary
So, summer has arrived again in North Carolina, and Charlotte can look forward to another hot one. Like many places across the states, it would appear that this year will be a fair bit drier than average. There may be a few especially hot days, but it is unlikely to reach the highs of 1983.
To enjoy this great summer weather, some precaution is recommended. Make sure you keep topped up and don't try to spend too long in the sun. Fake tans can provide an instant bronzed look while you ease yourself into the hot sun. The summer stretches out in Charlotte, there is no need to get burned on the first day.
Comments
comments