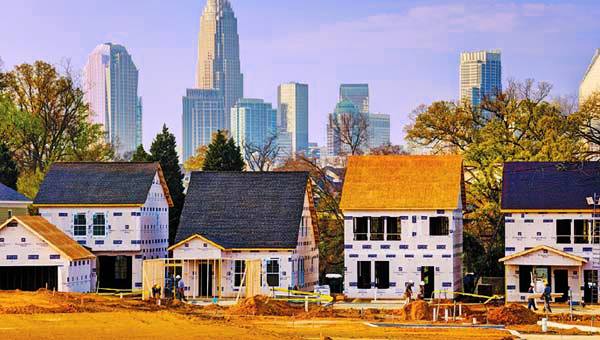 Queen City is expected to sizzle right through 2017. The residential real estate forecasters at Realtor.com predict a 4.3 percent sale price increase this year throughout the Charlotte-Concord-Gastonia real estate market compared with 3.9 percent for the entire nation. Things will be just as warm in the 2017 Charlotte commercial real estate market.
Coupled with a 6.3 percent increase in home sales, Charlotte is now in 21st position for market strength in the country's largest 100 real estate markets.
With PwC and the Urban Land Institute calling Charlotte America's third most attractive real estate market and US News ranking our town one of the 20 best places to live in the United States, the crackle in the local market isn't expected to cool anytime soon.
2017 Charlotte Real Estate Predictions
With the strength of the local real estate market as a foundation, what specifics can we expect this year?
Homes will continue to sell quickly
Listed homes stayed on the market for an average of 32 days in the first quarter of 2016, and that number is currently about 40 for 2017. The most attractive homes by location, price or features will sell significantly faster than that. Some experts predict that the summer of 2017 will see record-quick home sales here and across the country.
Sale price increases might be greater than forecasted
Experts are reporting the median sale price of homes in Charlotte is running 20 percent higher than this time 12 months ago currently at $369,000. That increase might signal an average sale price that rises more than the expected 4.3 percent, especially because the inventory of homes for sale is still quite low.
The Charlotte rental market will be strong too
Strong home sales, limited availability and rising prices put off some buyers out of the market. The rental market gets stronger. Rent might very well exceed the 2016 rent rates of more than $1,100 for a single-bedroom apartment and nearly $1,300 for a two-bedroom. One factor that might offset rental price increase over the next 12-24 months is the fact that 23,500 new apartment units are either under construction or are planned here, per the Charlotte Observer. However, job growth and an expanding local population should quickly absorb new apartments as they become available.
The commercial Charlotte real estate market will be just as hot
CBRE, the world's largest commercial real estate service company, predicts that Charlotte will remain a high-demand market. According to the Observer story, the CBRE report indicates, "Vibrant economic expansion, solid leasing dynamics and strong investment returns have made Charlotte one of the most sought after markets in the Southeast. Fueling its growth is a combination of affordability, high quality of living and an educated workforce." That should translate to:
Consistent tenant demand for office space, with most office projects scheduled for completion in 2017 already fully leased
Retail leasing will remain strong despite the impact of Internet competition with new retailers arriving in Charlotte in response to the growing population and high wages
Warehouse and distribution space will be at a premium, in part due to strong Internet sales and the fact that 50 percent of the US population can be reached by truck from Charlotte in one day
2017 Charlotte Real Estate and You
If you're planning to buy a Charlotte home this year, it goes without saying that you must be pre-qualified if necessary, and ready to act. Just as importantly, you should be working with an agent you can trust to inform you immediately by text or phone when homes that fit your criteria hit the market. "Snooze you lose" is the mantra for 2017.
Renters should proceed in much the same way as buyers. Work with a rental agency that knows the market and can inform you when existing apartments or homes become available and apartments under construction begin to lease.
If you plan to lease commercial space in Charlotte in 2017, understand that the prices, especially for prime locations, are going to be high. You'll have to consider your leasing costs when factoring every other part of your business plan including product or service pricing, hiring and the capital you'll have for product development and expansion.
Stay informed, plan carefully and have your financial ducks in a row as you plan to jump into the 2017 Charlotte real estate residential or commercial market. That's the only strategy for getting the home or space you want.
Comments
comments