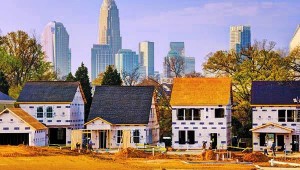 According to a recent report by PwC and the Urban Land Institute, Charlotte officially now the third-most attractive real estate market in America.
Charlotte's rapidly growing population, strong construction presence, and booming economy are the main factors that led to the ranking.
The Charlotte region is about to see some large scale development with the new $600 million Hard Rock Casino, $350 million film studio, and dozens of new high rises in Southend and Uptown.
"Good job and population growth along with the development of urban centers continues to make the market attractive to residents. Interviewees generally feel good about the Charlotte market, although some did express concern that the concentration of the financial services industry may not offer the same level of growth as other more technology-oriented markets," the ULI report commented.
Dallas ranked #1 and Austin #2, but the Queen City easily beat out its rival southern cities; including Atlanta (No. 5), Nashville (No. 7), and Raleigh (No. 11).
In the survey, ULI advised real estate investors to seek out thriving secondary markets, such as Charlotte, instead of the biggest markets (NYC, LA, Chicago, etc) in order to find more value in investments: "These secondary markets boast lower costs of living—particularly in housing—and strong growth potential."
Please share;
Comments
comments