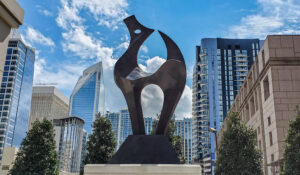 Today, CrowdStreet, the nation's leading property investing platform, released its annual Best Places to Invest report for 2022 based on its comprehensive marketplace research it does to evaluate the deals it offers individual investors on its Marketplace.  The report details the best markets for overall commercial real estate investing overall as well as in the seven most important property sectors right now: multifamily, build-to-rent, industrial, office, hotel, retail and life sciences.
Charlotte, which saw an influx of $3.2 billion in investment last year, was named the 15th best place to invest in commercial real estate overall, 3rd in office, and Top 10 in build-to-rent.
In speaking about Charlotte, the report noted:
"Long known as a banking powerhouse, this metro is becoming a magnet for corporate relocation, with four Fortune 1000 companies moving to the area in the last three years. Charlotte has seen a nearly 20% population increase over the last decade. Fueled by in-migration from out of state (especially from the Midwest and Northeast) and sustained economic improvement in the area, the Charlotte rental market is one of the fastest rising in the U.S., boasting a 12.1% rent growth rate in the last year." 
Raleigh-Durham, CrowdStreet's number one market in 2021, also finished strong in this year's ranking, coming in 2nd place for 2022. Its combined population of more than 750,000 in the 2020 census has grown by 23% since 2010, making it the nation's second-fastest growing metropolitan statistical area after Austin. This contributes to its position as the nation's top multifamily housing market, according to CrowdStreet.
What you you think the future holds for the real estate markets of Charlotte and Raleigh? 
Comments
comments