If you've recently driven through South End, NoDa, Plaza Midwood, or Uptown and marveled at the sheer volume of new apartments being built, you're not alone.
According to a recent report by ApartmentList.com, on a per-capita basis, the Charlotte metro ranks 5th out of the 25 largest metros in America for multifamily construction.
We ranked just below Dallas and Portland, and just above San Antonio and San Diego;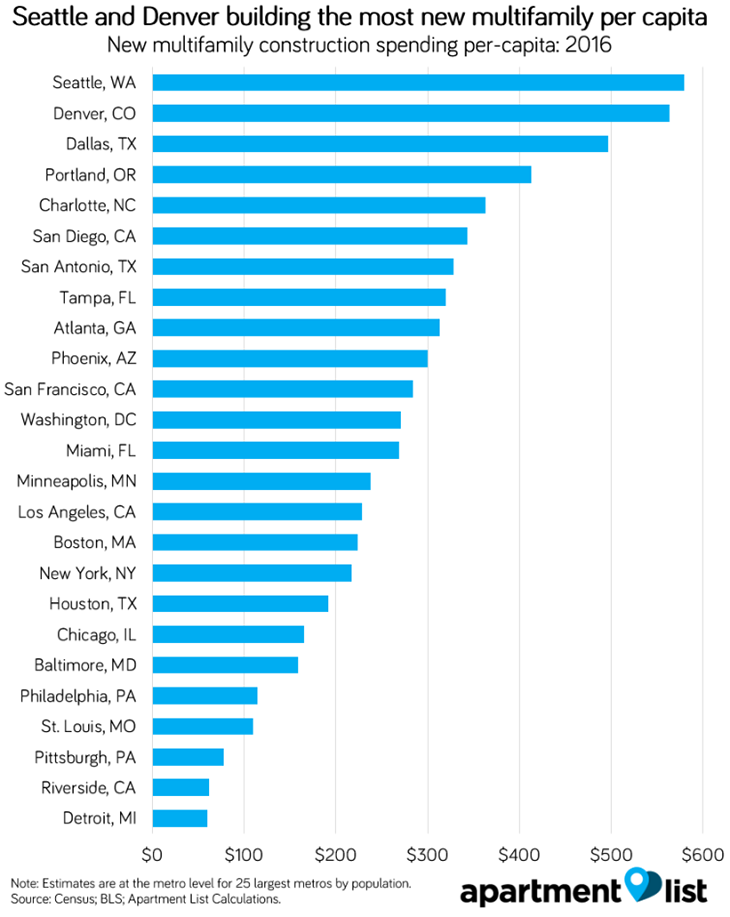 Between 2000 and 2016, we spent a total of $9.5 billion on new apartment developments, ranking #15 in the nation for overall dollars spent.
The report also points out how much faster cities are building apartments compared to single-family homes.
According to the report, "In 2017, annual spending on new multifamily construction totaled $62.6 billion; this amount is 3.8 times the amount spent in the post-recession trough of 2010, and is just 2.6 percent shy of the pre-recession peak of 2006. In contrast, single-family construction has failed to recover to the same extent, with real spending still at less than half its peak level."
Our historic building boom is also far from over.
According to another report by the National Multifamily Housing Council, the Charlotte region is expected to need at least 72,000 more apartments by the year 2030.
What do you think about Charlotte's apartment building boom?
Comments
comments