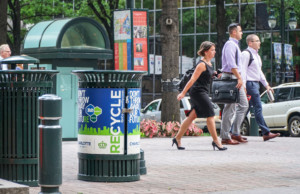 Rats, mold, pollution, and trash plague many U.S. cities big and small — but the problem is worse in some than in others.
So, what are 2022's Dirtiest and Cleanest Cities in America?
The website LawnStarter just released their ranking of nearly 90 of the biggest U.S. cities across four key categories, including pollution, living conditions, infrastructure, and consumer satisfaction.
Charlotte ranked as the 83rd dirtiest city in America (5th cleanest) and had the following key metrics:
Annual Excess Fuel Consumption (Gallons per Auto Commuter) – 62nd
Share of Homes with No Kitchen Facilities – 78th
Share of Homes with Signs of Mice or Rats in Last 12 Months – 79th
Refuse and Recycling Collectors per 100,000 Residents – 73rd
Share of Residents Who Find City Dirty and Untidy – 61st
Share of Residents Dissatisfied with Pollution – 69th
2022's Dirtiest Cities in America: 
| OVERALL RANK | City | Overall Score | Pollution Rank | Living Conditions Rank | Infrastructure Rank | Consumer Satisfaction Rank |
| --- | --- | --- | --- | --- | --- | --- |
| 1 | Newark, NJ | 52.97 | 13 | 21 | 43 | 2 |
| 2 | Houston, TX | 50.12 | 9 | 7 | 28 | 20 |
| 3 | Los Angeles, CA | 49.87 | 21 | 5 | 31 | 5 |
| 4 | San Bernardino, CA | 49.79 | 2 | 41 | 62 | 1 |
| 5 | Oklahoma City, OK | 49.01 | 10 | 3 | 5 | 67 |
| 6 | San Antonio, TX | 46.92 | 30 | 2 | 25 | 22 |
| 7 | Las Vegas, NV | 45.91 | 19 | 42 | 2 | 21 |
| 8 | Phoenix, AZ | 45.55 | 6 | 54 | 9 | 23 |
| 9 | Glendale, CA | 43.89 | 20 | 19 | 13 | 47 |
| 10 | Chicago, IL | 43.41 | 27 | 4 | 73 | 24 |
| 11 | Anaheim, CA | 42.75 | 23 | 27 | 66 | 14 |
| 12 | Mesa, AZ | 42.62 | 8 | 53 | 20 | 28 |
| 13 | Cleveland, OH | 42.2 | 15 | 31 | 14 | 45 |
| 14 | New York, NY | 42.19 | 54 | 1 | 49 | 6 |
| 15 | Memphis, TN | 42 | 70 | 8 | 12 | 10 |
| 16 | Aurora, CO | 41.94 | 29 | 48 | 6 | 27 |
| 17 | Scottsdale, AZ | 41.79 | 7 | 58 | 7 | 56 |
| 18 | Washington, DC | 41.54 | 44 | 6 | 30 | 49 |
| 19 | Long Beach, CA | 41.47 | 14 | 9 | 75 | 43 |
| 20 | Detroit, MI | 41.28 | 67 | 23 | 48 | 3 |
| 21 | San Jose, CA | 40.99 | 45 | 26 | 55 | 18 |
| 22 | Denver, CO | 40.73 | 4 | 44 | 37 | 44 |
| 23 | Pasadena, CA | 40.07 | 18 | 15 | 76 | 37 |
| 24 | Dallas, TX | 39.96 | 12 | 37 | 47 | 33 |
| 25 | Peoria, AZ | 39.81 | 1 | 60 | 22 | 66 |
| 26 | Tempe, AZ | 39.58 | 3 | 50 | 27 | 63 |
| 27 | Jersey City, NJ | 39.45 | 55 | 10 | 50 | 7 |
| 28 | Kansas City, KS | 39.35 | 56 | 11 | 8 | 40 |
| 29 | Aurora, IL | 39.25 | 22 | 17 | 83 | 38 |
| 30 | Santa Ana, CA | 39.08 | 24 | 43 | 61 | 13 |
| 31 | Philadelphia, PA | 37.97 | 68 | 12 | 51 | 8 |
| 32 | Riverside, CA | 37.95 | 11 | 46 | 68 | 25 |
| 33 | San Francisco, CA | 37.48 | 62 | 13 | 53 | 9 |
| 34 | Orlando, FL | 37.39 | 17 | 64 | 10 | 54 |
| 35 | Fort Worth, TX | 37.35 | 28 | 51 | 63 | 15 |
| 35 | New Orleans, LA | 37.35 | 77 | 18 | 21 | 12 |
| 37 | Chandler, AZ | 36.42 | 5 | 55 | 17 | 82 |
| 38 | Tampa, FL | 35.91 | 42 | 32 | 35 | 68 |
| 39 | Naperville, IL | 35.62 | 25 | 24 | 41 | 83 |
| 40 | Plano, TX | 35.36 | 31 | 34 | 80 | 42 |
| 41 | Henderson, NV | 35.29 | 32 | 45 | 33 | 46 |
| 42 | Irvine, CA | 34.99 | 16 | 59 | 16 | 72 |
| 43 | Miami, FL | 34.9 | 69 | 16 | 29 | 31 |
| 44 | Milwaukee, WI | 34.55 | 38 | 39 | 32 | 69 |
| 45 | Tucson, AZ | 34.28 | 37 | 72 | 4 | 62 |
| 46 | Akron, OH | 33.54 | 82 | 38 | 19 | 17 |
| 47 | Minneapolis, MN | 33.33 | 41 | 25 | 82 | 79 |
| 48 | Atlanta, GA | 33.2 | 43 | 67 | 56 | 26 |
| 49 | Sunnyvale, CA | 33.16 | 46 | 20 | 86 | 74 |
| 50 | Portland, OR | 32.8 | 50 | 36 | 69 | 52 |
| 51 | Austin, TX | 32.61 | 39 | 57 | 44 | 57 |
| 52 | Fort Lauderdale, FL | 32.33 | 53 | 30 | 18 | 64 |
| 53 | Port St. Lucie, FL | 32.31 | 36 | 33 | 46 | 81 |
| 54 | Sacramento, CA | 32.27 | 26 | 68 | 70 | 41 |
| 55 | Arlington, TX | 32.25 | 33 | 47 | 59 | 60 |
| 56 | Kansas City, MO | 31.69 | 35 | 76 | 23 | 50 |
| 57 | Seattle, WA | 31.58 | 47 | 51 | 58 | 58 |
| 58 | Newport News, VA | 31.07 | 86 | 66 | 60 | 4 |
| 59 | San Diego, CA | 30.69 | 34 | 70 | 39 | 61 |
| 60 | Cincinnati, OH | 30.64 | 60 | 82 | 3 | 30 |
| 61 | Rochester, NY | 30.61 | 81 | 28 | 85 | 16 |
| 62 | Providence, RI | 30.28 | 40 | 83 | 54 | 29 |
| 63 | Louisville, KY | 29.7 | 52 | 74 | 11 | 39 |
| 64 | Oakland, CA | 29.27 | 65 | 56 | 57 | 19 |
| 65 | Raleigh, NC | 28.94 | 51 | 35 | 81 | 78 |
| 66 | Boston, MA | 27.75 | 66 | 22 | 74 | 70 |
| 67 | Baltimore, MD | 27.58 | 74 | 73 | 38 | 11 |
| 68 | Richmond, VA | 27.32 | 78 | 29 | 72 | 53 |
| 69 | Buffalo, NY | 26.38 | 49 | 69 | 78 | 71 |
| 70 | Fremont, CA | 26.29 | 64 | 63 | 34 | 48 |
| 71 | St. Petersburg, FL | 25.8 | 83 | 49 | 15 | 76 |
| 72 | Arlington, VA | 25.55 | 61 | 14 | 71 | 86 |
| 73 | Jacksonville, FL | 25.45 | 75 | 75 | 26 | 32 |
| 74 | St. Louis, MO | 25.39 | 58 | 77 | 40 | 35 |
| 75 | Murfreesboro, TN | 25.11 | 71 | 87 | 1 | 77 |
| 76 | Vancouver, WA | 24.91 | 76 | 40 | 67 | 59 |
| 77 | Bellevue, WA | 23.46 | 48 | 61 | 84 | 84 |
| 78 | Indianapolis, IN | 23.32 | 63 | 84 | 45 | 34 |
| 79 | Hayward, CA | 23.24 | 59 | 62 | 77 | 55 |
| 80 | Nashville, TN | 21.4 | 73 | 85 | 24 | 51 |
| 81 | Pittsburgh, PA | 20.18 | 57 | 81 | 87 | 36 |
| 82 | Greensboro, NC | 18.19 | 84 | 78 | 64 | 73 |
| 83 | Charlotte, NC | 17.93 | 80 | 80 | 79 | 65 |
| 84 | Columbus, OH | 17.73 | 79 | 86 | 42 | 75 |
| 85 | Virginia Beach, VA | 17.7 | 87 | 71 | 52 | 80 |
| 86 | Overland Park, KS | 17.07 | 72 | 79 | 36 | 85 |
| 87 | Norfolk, VA | 15.78 | 85 | 65 | 65 | 87 |
Comments
comments