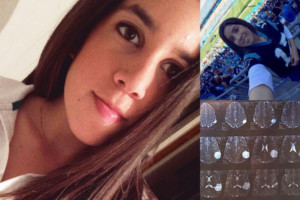 After hearing that their daughter has late-stage brain cancer, and that their insurance wouldn't cover the cost of the surgery, one Charlotte family is praying for a true miracle this year.
They started a GoFundMe page to try to raise the $50,000 needed for the surgery on Feb. 3rd. They've already been shocked and humbled at the response – in less than a month, 146 people have pitched in to raise over $30,000.
They now have renewed hope that their daughter might live.
According to their GoFundMe Page:
"…Isabella was operated on November 28th. During the operation, the doctor told us that the tumor was bigger than he originally thought and that he was only going to be able to extract 40%. She was going to need another surgery. Despite the possible complications of the operation in which she could lose her speech or the ability to recognize people, Isabella recuperated spectacularly. That is when I knew God had been with her all the time. Praying to God doesn't mean that bad things won't happen to you, it means that He will be by your side when they do…
…Our doctor recommended that Isabella's second surgery should be done in the USA, where most hospitals have the equipment necessary to extract the whole tumor. With the help of my sister who lives in North Carolina, Dr. Mark Van Poppel agreed to take my daughter's case and do the surgery on February 3rd. The insurance company will not cover this surgery, (it did however, cover the Guatemalan surgery), but my family and I will do whatever it takes to give her the best possible care. We are estimating that the surgery will cost over USD $50,000.00, so we are asking for your help. We are an average family who has been blessed with work and food on our table, but the operation's cost is way over our budget…"
After raising over $30,000 in less than a month, they posted this update:
"I want to thank each and everyone of you, who kindly have donated for my daughters upcoming surgery in Charlotte, NC.
I am humbled by all the support, kindness and generosity you have given us!"
The family still needs to raise $20,000 to save their daughter's life…they are praying for a true Christmas miracle this year.
Find out more on their GoFundMe Page here – Please share! 
Comments
comments