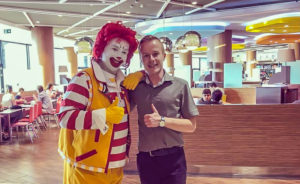 McDonald's restaurants will now be donating over $154,000 for the Ronald McDonald House Chapter in Charlotte.
The funds were raised during a recent Drive-Thru Challenge held by McDonald's restaurants around the Charlotte region. Local McDonald's restaurants engaged in a friendly competition to see who can raise the most donations for RMHC to support their local houses surpassed their goal and raised $1.23 million across the southeast markets.
As a result of COVID-19, local RMHC Chapters have suffered a significant loss in funding and donations, and this initiative aimed to offset this loss. In an effort to help families in need, local restaurants increased awareness of the "Round Up for RMHC" program though Drive-Thru orders from July 6 through August 16. Each time someone ordered through the Drive-Thru, they had the opportunity to round up their purchase to the nearest dollar or choose to give $1, $3 or $5 for RMHC.
The RMHC of Charlotte provides a supportive "home-away-from-home" for families and their children who are receiving medical treatment at area hospitals. They provide guest families with all the comforts of home – plus a local support network – so they can focus on their children's healing. This financial support is one way McDonald's continues to support Ronald McDonald House Charities and its network of local chapters.
Comments
comments